Ricard O'Sullivan Burke (1838 - 1922)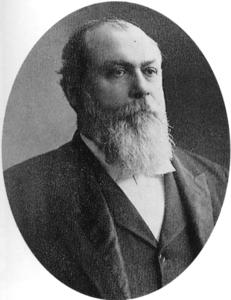 Ricard O'Sullivan Burke was the youngest of twelve children born to Denis and Margaret Burke (nee O'Sullivan) on January 24, 1838 at Clounyreague near the village Kinneigh in Co. Cork, Ireland.
The Burke family lived on a 66-acre farm leased from Lord Bandon a local landlord and a product of the Ascendency. The Burke's, by local standards, were well off and could afford private tutoring for their children. That all ended in 1842 when Denis, who was active in local politics, supported Feargus O'Connor, a Chartist agitator, for a seat in the British parliament against the known wishes of his landlord a staunch conservative. As a consequence, the Burke's were evicted from their home resulting in the relocation and breakup of the family. The four oldest children went to England, the remainder of the family relocated to Dunmanway, a nearby town.
Although still a child, Ricard was, at some level, aware of what happened and from that time on harbored a disdain for the Ascendency and what it represented. That disdain though remained dormant for a period of time, surfaced some twenty plus years later resulting in a fateful departure from what, otherwise, would have been an adventurous but a less dangerous life.
After relocating to Dunmanway he attended the local National School. In 1849 he continued his studied at the Dunmanway Model School. He was an excellent student who demonstrated a talent for painting. He was also an avid reader and was fluent in both Irish and English.
Later on, during his extensive travels, he mastered French and Spanish and Italian
In 1853, Ricard became a paid monitor at the Dunmanway Model School. responsible for, in addition to furthering his own education, helping to teach and examine lower grade students.
Later that same year he made a hasty decision that he later describes as his greatest mistake and regret:. He succumbed to cajoling by a friend to join the Cork Militia. For the next three year he endured the tiresome routine of garrison life; the only relief been the periodic deployment to other garrisons in Kinsale, Limerick and Dublin. After three years he could no longer endure life as a soldier in the service of the Crown. The final humiliation that made up his mind to desert was when he was hit by an officer for not addressing an envelope "correctly'.
After deserting the only viable option was to leave the country. As members of his family were living in London he decided to join them there. He found it difficult to find work, but took advantage of his spare time to visit museums, the House of Parliament, Temple Bar and other historic sites. However, after a unsuccessful month of job hunting and the possibility of being arrested for desertion he opted to leave England for the United States.
After arriving in New York he found employment in a portrait painting establishment in Harlem. The quality of his work was such that he was commissioned by a sea captain, whose mother was Irish, to paint a life-size portrait of a woman from a picture. The finished portrait, which Ricard personally delivered, was well received and after an ensuing conversation with the sea captain Ricard was offered a job as a deckhand on his trading ship.
Richard spent the next two years and a half at sea traversing the trade routes as far afield as Central and South America, Africa, Japan, China and the South Pacific Islands.
Although he grew tired of life at sea, he was by no means finished with his nomadic lifestyle. The next phase started in Cape St. Lucas in the lower California Peninsula when Ricard and a number of the shipmates abandoned ship to seek their fortune in the Senora goldmines in northern California. However, instead of turning north towards the gold fields, Ricard found himself travelling south with an Englishman of like mind and independent means. By the time he returned to New York on January 1st. 1861 he had traversed most if not all of the countries of Central and south America. One of the last stops on his journey was at a settlers colony in Chile that included amongst its inhabitants fellow country men and women. The settlement was protected from hostile "Indians" attacks by a Militia made up mostly of Irishmen. During the time he spent there he served in the Militia. It was during that time that he first heard of the Fenians who were purported to be organizing in Ireland..
On his return to New York he lectured at the Cooper Institute until the onset of the Civil War in April of 1861. He may also have joined the Fenian Brotherhood at that time. He joined the 5th New York Infantry and after it was disbanded some months later joined the 15th New York Regiment of Engineers. One of the reasons he gave for siding with the Union was that the United States was a Federal Republic and that he was a Federalist and a Republican.
His first saw action at the first battle of bull run as color bearer for his regiment. After the defeat of the Union army at that battle his regiment returned to Washington where it underwent training as an engineer unit. As was typical of Ricard he excelled at engineering and was made Quarter Master Sergeant in August of 1861. He participated in many of the major battles of the war including the siege of Yorktown, the Battle of Gloucester and the Peninsula Campaign and the second Battle of Bull Run. In January of 1863 he was appointed first lieutenant and participated in the battle of Chancellorsville and the battle of Franklin's Crossing. After these battles he assigned to the staff of the Chief Engineer at General Grant's headquarters at Petersburg in Virginia. Here he was put in charge of a section of the earthworks during the siege of the city. In May of 1865 he was promoted to the rank of Captain and placed in charge of a company at Burke's Station in Virginia. He was promoted to the rank of brevet Colonel before he was mustered out of service at Fort Barry in Virginia in June of 1865.
After been mustered out he returned to New York he contacted John O'Mahony head of the Fenian Brotherhood to offer his services for the planned Fenian Rising in Ireland. In December of 1865 he was dispatched to Ireland with orders to reported to Colonel Thomas J. Kelly. Colonel Kelly sent him to England to procure arms and have them shipped to Ireland for the Rising. He established a subterfuge business in Birmingham and proceeded to buy a substantial quantity of arms which he stored in Liverpool. Despite his hard work the arms was seized by the police on arrived in Cork
Nothing much happened in Ireland regarding a Rising in 1866. It seems that Ricard traveled back and forth between England, Ireland and the United States a number of times on Fenian business in 1866 meeting with leaders on both sided of the Atlantic. In January of 1867 he was back in London preparing for the Rising originally scheduled for February, but later changed to March.
Ricard was sent to Waterford to take charge there. What he found was a disorganized group poorly armed with little prospect of succeeding against well armed British soldiers and police. Instead of engaging the British there he took his small contingent to Tipperary hoping to join up with a larger Fenian contingent. On finding that the Tipperary contingent was no better off he sent his men home. The outcome in the other areas of activity including Dublin, Cork, Tipperary and Limerick ended in much the same way.
From the onset the chances of a Fenian successful Rising was doomed by the prior arrest of the leaders and the well planted core of British traitors that permeated the Fenian ranks.
In late July to early August of 1867 Ricard attended a General Convention of the Irish Republican Brotherhood (IRB) in Manchester where Thomas J. Kelly was appointed Chief Executive. The IRB was the official name of the Fenians in Ireland. Amongst other appointments Ricard was given responsibility for activities in England. A month later in September Kelly and his aide Timothy Deasy were arrested. On the morning of September when they were being transported from the court to the prison a contingent of Fenians, on orders from Ricard, attacked the van and rescued them. A prison guard was inadvertently killed during the rescue. Three of five Fenian arrested for taking part ( The Manchester Martyrs) were hanged the following November.
On November 20, 1867 Ricard was arrested in London. He was placed in the Clerkenwell House of Detention awaiting trial. In an attempt to secure his escape the Fenians placed a wheelbarrow laden with explosives against the prison wall adjacent to the exercise yard to blow a hole and that would allow Ricard to escape through. The first attempt on December 12 failed due to a faulty fuse. A second attempt the following day succeeded, but wit unintended consequences. As well as blowing a hole in the wall the explosion demolished a row of slum dwellings across the street resulting in the death of six people. To make matters worse Ricard did not escape as he was in his cell when the explosion occurred. Michael Barrett, one of the five people charged for the explosion and deaths was found guilty and publicly hanged in May of 1868.
Ricard was charged with "treason- felony" and tried at the Old Bailey in London on April 28 through 30, 1868. He was found guilty and sentenced to fifteen years penal servitude. He spent time in a number of prisons including Newgate, Millbank, Chatham and Woking before been sent to Broadmoor in August of 1870. During his time in prison he was very ill suffering from symptoms of mercury poisoning; possibly administered by an assistant doctor at Woking prison..
He was released, on license, (parole) on July 6, 1871 and allowed to return to Ireland due his poor health. He lived with his brother in Cork for the next two years until his health sufficiently improved to return to the United States, which he did in 1873.
After returning to the States he secured a clerical position in the War Department in Washington through the influence of a friend from the Civil War era, Adjutant General Drum. He also joined Clan na Gael in Washington the offspring to the Fenian Brotherhood. Although he remained a loyal member for the rest of his life he refrained from taking any leadership role in the organization. He was involved with Parnell and John Dillon when they came to the United Stated in 1880 to collect money for the Land League.
As a committed Republican he canvassed for Garfield in the presidential election of 1880. It was during this campaign he met his future wife, Nora Sheehy, in Fort Wayne, Indiana. He returned to Washington with Nora where they were married.
After the Garfield campaign ended Ricard went to Mexico where he was employed as an engineer on the construction of the railroad from Laredo to Mexico City.
On his return to the States he worked in Omaha, Nebraska, as Assistant City Engineer. After that he relocated to Chicago he held a number of appointments with the City the last been that of Superintendent of Sewers.
He visited Ireland for the funeral of O'Donovan Rossa in 1915 where he met Padraic Pearse.
He suffered a stroke in 1917 and died in Chicago 1922.
Click HERE to view a monument erected to his honor in Kinneigh Co. Cork,
Contributed by: Tomas Ó Coisdealbha
---
cemetery
NAME: Mount Olivet Catholic Cemetery PHONE NO. 773-239-4422
ADDRESS: 2755 West 111th St. Chicago, IL 60655
---
GRAVE