Thomas J. Kelly (1833 - 1908)
Thomas J. Kelly was born in Mount Bellew, Co. Galway, Ireland in 1833. into a farming family. He received his education in Saint Jarlath's College, Tuam, where among his teachers was Michael J. McCann, a regular contributor to the Nation (edited originally by the great nationalist poet Thomas Davis). McCann wrote "O'Donnell Abú", the stirring war song set in 16th century Ireland, which was so popular among Irish throughout the world, that it was regarded, for a time, as a virtual Irish national anthem.
During his youth in Ireland, Kelly had seen the Repeal Movement (attending, with some 40,000 others, a "Monster Meeting" at Caltra, on 21st May 1843), the Great Hunger and the Rising of 1848 (with trails, speeches from the dock, and exile of many leaders) first hand, but, like Robert Emmet in 1798, was apparently too young, and too careful, to attract the attention of the Constabulary in 1848.
After his classical, theological and nationalist education at Saint Jarlath's, where he mastered not only the Gospel according to Matthew, Mark, Luke and John, but also the Gospel of Tone, Thomas Kelly apprenticed to the printer's trade in Kelly's, the business of a relation in Loughrea. His apprenticeship complete, he emigrated to America, the land of opportunity, in 1851. Directly, he fell in with 1848 exiles in New York; his rapid acceptance into the leadership of the Republican movement is testimony not only to his ability and dedication, but also to the credentials/recommendations which must have accompanied him from '48 men at home.
Thomas Kelly participated both in the Emmet Monument Association and in the New York State Militia (1851-57). Although he was in the New York State Militia, and associated with Doheny and Corcoran, both officers of the 69th, we cannot say for certain that Kelly was in the 69th, rather than being assigned to organize in one of the other Irish regiments in New York. The problem is that enlisted rosters from the 1850s have not survived, not in the New York State Division of Military and Naval Affairs, nor in the archives of the New York Historical Society, nor in the records of the 69th Regiment of New York. So, while all the circumstantial evidence all points to the 69th, it cannot be claimed as a certainty; what is certain, however, is that, thanks to the opportunity presented by the New York State Militia, Thomas Kelly was both a student and a practitioner of the military art.
A co-founder of the Fenian Brotherhood, Thomas Kelly later moved to Tennessee to start/edit the Nashville Democrat. [The large number of Fenians found in Nashville after the war suggests that he busied himself with more than journalism.] It is said that the flag on his newspaper office was the last "Stars and Stripes" in Nashville to come down after the secession of Tennessee.
Like many other Fenians, Kelly answered Lincoln's call for volunteers to fight to preserve the United States. A personal friend and political/conspiratorial associate of Michael Corcoran, Kelly was preparing to return to New York to the 69th, when he was introduced to a new Irish regiment, the 10th Ohio Volunteer Infantry, and threw in his lot with them. The 10th Ohio was originally enlisted for three months, and then re-enlisted for an additional three years. A member of Company "C", his military knowledge and ability having been recognized, Kelly was promoted to Sergeant upon this reorganization. By the end of the summer he was functioning as First Sergeant of Company "C". Although receiving what should have been a "million dollar wound" in the Battle of Carnifex Ferry in Western Virginia, 10th September 1861, he volunteered to return to duty before the end of the year. Kelly had been shot in the jaw by a bullet that destroyed part of his jaw and three teeth and then lodged in the muscles of the left side of his neck, from which it was removed surgically. It is possible that the goatee, which appears in all of his pictures was not only in fashion in the 1860s, but also hid what could have been a disfiguring scar.
Kelly was commissioned in January 1862, and later secunded to the staff of Major General George Thomas (later "The Rock of Chickamauga") of the XIV Corps, United States Army of the Cumberland, as a Signal Officer. He was promoted to Captain on 17th March 1863, becoming Chief Signal Officer. During this period his regimental commander requested his reassignment back to the 10th Ohio, in order that he might take command of one of the regiment's manoeuvre battalions (which would probably have entailed a at least a temporary promotion to major or lieutenant colonel). General Thomas refused the request, writing that he could not spare Kelly from his duties. [The Army of the United States had a "regimental" system, whereby personnel secunded to other units are still carried on the rolls, on 30th April 1863, Kelly was administratively transferred, on the books of the 10th Ohio from Company "C" to Company "I", while continuing to serve at XIV Corps Headquarters. It should also be noted that, as Chief Signal Officer Kelly was well situated to maintain communications with Fenians in the Army of the Cumberland.] Unfortunately, General Thomas' need for Kelly's services was trumped by a new Army regulation requiring that all officers of the Signal Corps have university degrees by the following February (and a war on!). This being the case (although too late for battalion command), Kelly again requested transfer back to his regiment. On 19th August 1863 he was ordered to return to the "Bloody Tinth"as Captain, Company "I", from which he was later mustered out with the rest of the 10th Ohio. His military service continued in the Fenian Brotherhood, the Irish Republican Army. American Fenian uniform buttons bore the letters "IRA".
With the end of the American Civil War in 1865, the Fenian Brotherhood in America sent its most trusted military officer, Captain Thomas Kelly, home to Ireland to assess the prospects for a Rising, and to advise on military matters. By summer 1865, John Devoy was convinced that the time was ripe for a rising. The Fenian Chief, James Stephens, was captured in Dublin; Kelly, with John Devoy and others, rescued Stephens from Richmond Gaol – much to the consternation of Dublin Castle. Kelly then arranged their harrowing escape from Ireland, via a collier to Kilmarnock in Scotland, thence by rail to London, whence to Paris and ultimately to America. In May 1866 Stephens, then in New York, appointed Thomas Kelly his deputy. After the visionary organizer Stephens stepped down, 29th December 1866, now Colonel Kelly, the pragmatic military man, became Chief Organizer of the Irish Republic (Virtually Established) and leader of the Fenian Brotherhood / Irish Revolutionary/Republican Brotherhood (IRB). Kelly promptly sailed for England and Ireland in January 1867, to assess the situation, organize, and plan for a Rising.
Colonel Kelly and Captain Timothy Deasy were arrested in Manchester. On 18th September 1867, they were rescued from a prison van by a group of bold Fenian men in what has become know to history as "the smashing of the van." During the rescue a policeman, Sergeant Brett, was accidentally killed. Kelly and Deasy escaped to America. There were nearly eighty arrests, and twenty-seven charged. Five Irishmen, none of whom had fired the shot, were condemned to death in a hasty show trial. One turned out to be an uninvolved Royal Marine, who, after a campaign by journalists who had attended the trial, was released. Another, Captain Edward O'Meagher Condon (US citizen and veteran of Corcoran's Irish Legion), at the request of the American Consul, had his sentence commuted to life at hard labor – Condon would be released eleven years later at the request of US President Hayes - who acted on a unanimous resolution of Congress. Later author of The Irish Race in America, he now lies in Calvary Cemetery. At the trial in Manchester, Condon was asked if he had anything to say, he replied, "I have nothing to retract – nothing to take back. I can only say 'God Save Ireland.'"
During his last few years Thomas Kelly had not been making the scene in New York's Irish community. He died in relative obscurity, finally succumbing to a variety of ailments which could be traced to his service in the Army of the United States.
He died at his residence, 31 East 130th St. in New York, on 5 February 1908
Contributed by; Tomás Ó Coısdealha
---
cemetery AND grave location
Name: Woodlawn Cemetery PHONE NO. (718) 920-0500
ADDRESS: Webster Avenue & E. 233rd Street, Bronx, NY 10470.
GRAVE LOCATION:
---
HEADSTONE
FRONT BACK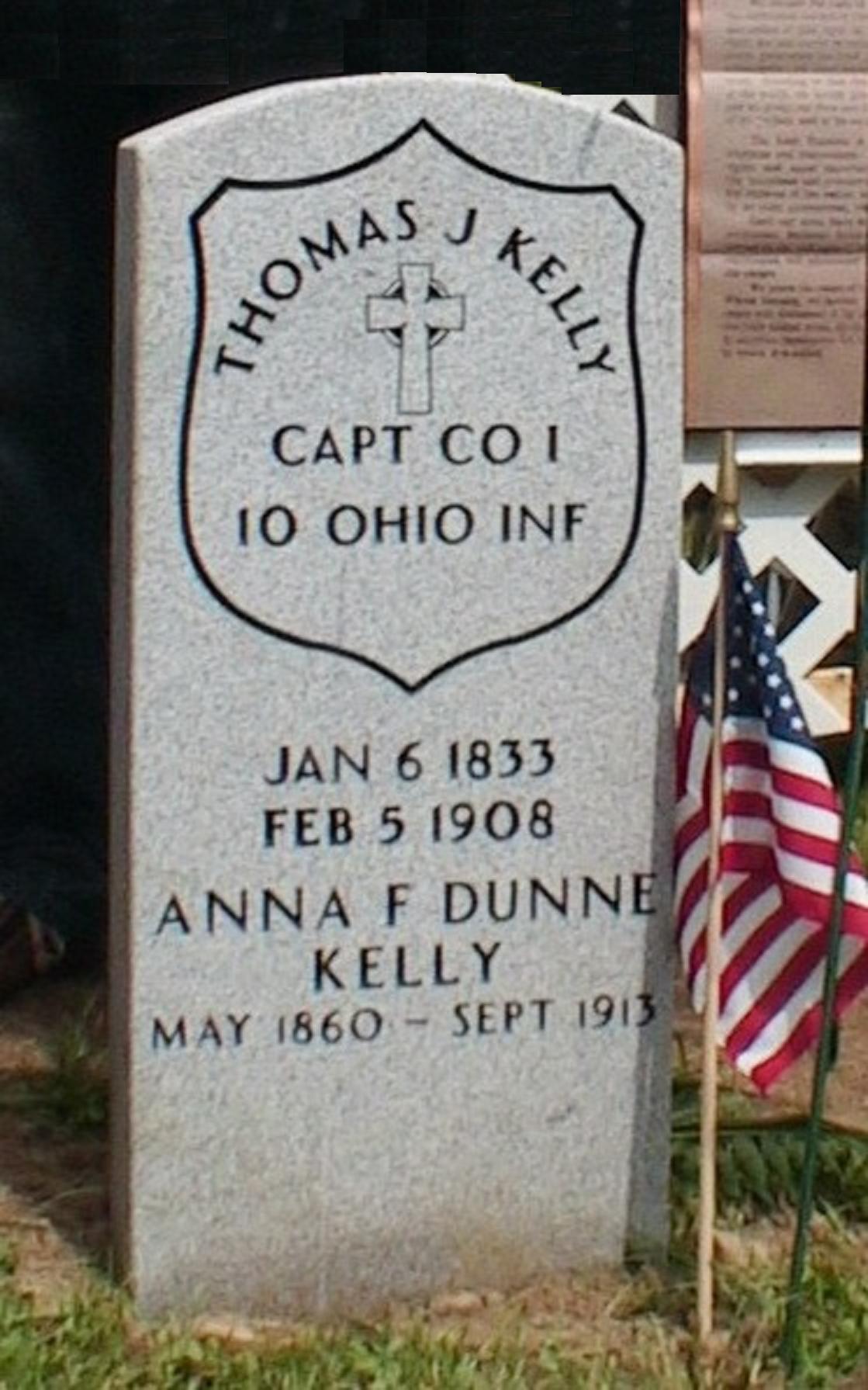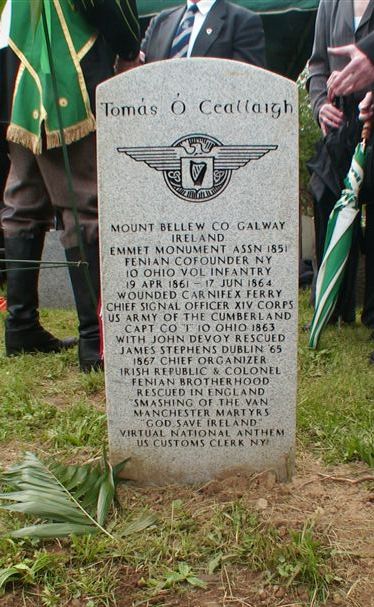 ---
Back to Biographies 7/15/08