Patrick Tierney (1841 - 1882)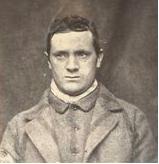 Patrick Tierney was born in Ennis, County Clare, in 1842. He survived the horrors of the Great Hunger. He was just 16 years old when in 1858 a group of Irish nationalists, convinced that England would never grant Ireland its freedom short of physical force, organized the Irish Republican Brotherhood whose members soon came to be known as Fenians, a name taken from that of the ancient warrior class of Ireland.
Two years later, Tierney, who had been employed as a leather worker, joined the British army. As did other Irish lads, he may have enlisted in the 87th Royal Irish Fusiliers because he sympathized with the Fenians and intended to use the military training to fight for an independent Ireland. If not, he soon was converted to that cause. The Irish Republican Brotherhood had so much support by the mid-1860s that regiments like the 87th known as the "Faughs" from the Gaelic battle cry "Faugh a Ballagh" or "Clear the way" were infested with cells of discontented Irish soldiers. The English government responded by planting numerous spies and informers in the ranks.
One of the informers was John Warner, originally a sergeant in the Cork Militia Artillery. Warner rose to the rank of captain in the IRB, then revealed to the police the names of IRB officers as well as the details of their plans for an uprising. In May 1866, Tierney tracked Warner down in Dublin where he had been spirited away after betraying his IRB comrades. Tierney confronted Warner at the police barracks in Howth and stabbed him with a knife.
Warner survived, but Tierney was quickly subdued by the informer's police guards and charged with assault with intent to kill. When arrested, Tierney gave his name as Edward O'Connor and pleaded guilty in the hope of aborting any investigation that would lead back to the 87th regiment and endanger his IRB comrades.
Tierney was convicted in June 1866 and sentenced to penal servitude for life. After incarceration for eight months at Mountjoy Prison in Dublin, he was transferred to Spike Island, a prison located in the Cork City harbor.
Tierney was assigned to a prison detail whose task it was to cut stone. When his hands became severely lacerated from that work, he was accused of idleness. Then, on May 18, 1867, he attempted to escape by seizing a boat and rowing to the mainland. Apprehended before he reached land, he was given a flogging of 36 lashes and sent to solitary confinement with no dressing for his wounds. While the wounds were still raw and inflamed, he was forced to go back to work, and "with his right leg chained to his right arm he resumed his task which in chains he continued to perform from Sept. 30, 1867, until April 1869". Later, for asking a soldier to bring him some tobacco and proffering him a sovereign for the service, he was reported and put on a diet of bread and water.
Tierney spent 12 years in the prison on Spike Island under such conditions and in virtual isolation. Because he maintained the alias Edward O'Connor, even his family did not know for years what had happened to Patrick Tierney. His mother died in 1842, but Tierney did not know that until in March 1878 his sister Bridget Cullen discovered his whereabouts and was allowed to visit the prison.
Outraged by seeing her brother confined "in a dark cell chained to the wall like a prisoner in the Middle Ages," Cullen publicized his situation and the statements he made concerning his treatment. Her efforts led to the appointment of a commission comprised of two members of the British Parliament, Spencer Talbot and Henry Holland. Finally, a decision, said to be promoted by Queen Victoria her-self, was made to release Tierney. The pardon was granted on Nov. 18, 1878.
Tierney later recalled his final days in Ireland: "On 20 November, (prison) director John Barlow had me brought before him and said the government were about to give me my liberty, on condition that I would leave the country and never return.
"I asked him if the government would be averse to my remaining in Ireland on medical grounds. He said not and then asked what was amiss with me. I replied an abscess on the back. He sent for Dr. O'Keefe and asked him if the voyage would be injurious to me. Dr. O'Keefe replied no that I was fit to go to any portion of the world. I made no more objection then, but asked director Barlow to telegraph to my relations so as to have them (visit) on 21 November which would be the next day from the time of the interview. He said he could not do that without letting other people know it.
"I saw then that they wanted to smuggle me out of the country without letting me see either friend or relative and I declined to go without seeing them. They did not come to see me until Saturday when I bade them a final farewell.
"On 3 December, the deputy governor George Sheehan gave me a hint that I would be going by the mail steamer for New York next day, but would tell me nothing for certain. Next day morning, December 4, I went to my work as usual with the invalids with whom I had been working for the past fortnight when about 11 a.m. one of the clerks came for me and I was conducted before the doctor. He told me to take off the poultice that I had on my back and he afterwards extracted a quantity of matter from the abscess and dressed it with lint and sticking plaster.
"I was then dressed and taken before director Barlow who again impressed upon me the condition of perpetual exile or imprisonment. I told him I knew the conditions very well and was prepared to put up with the consequences if I violated them."
The utmost secrecy was maintained and Tierney was not allowed even one last foot-step on the Irish mainland. A special boat conveyed him from the prison to the steam ship City of Chester. The Cork agents of the Inman steamship line were entirely ignorant of the occurrence as the ticket was taken from the purser on board the ship.
The City of Chester docked in New York City on Dec. 12, 1879. Tierney's arrival was noted by the New York Times: "When he was convicted he was 25 years old and he is now about 37 … Tierney immediately upon landing here was taken to Sweeney's Hotel … He does not know what he will do here, having formed as yet no plans for the future."
A reporter for the Irish-American Weekly wrote: "Mr. Tierney is still in years a young man and should be in the prime of life and manhood, but the hardships to which he was subjected in prison have made him prematurely old.
The haggard lines in his face tell too plainly the story of the tortures to which the brutal jailers of England subjected the Irish political prisoners, tortures under which the weak in body succumbed and died, while those of more enduring physique survive only as wrecks of their former selves … Tierney is a man of singularly quiet, modest demeanor, but evidently of great determination where his feelings and convictions are enlisted. Like all his fellow prisoners, his sufferings have only made him more steadfast in his devotion to the cause for which he endured them and he hopes the day will yet come when he can lend a hand in the overthrow of the tyranny which persecuted him for his love of country."
For his part, Tierney "made several efforts to support himself in independence," but the infirmities caused by his years in prison and the barbarities inflicted on him were insurmountable obstacles. He reportedly came to Connecticut and worked briefly at the stone quarries in Stony Creek. When his health continued to deteriorate, the Clan-na-Gael in New Haven and James Reynolds, the Fenian who played a major role in the Catalpa expedition, arranged for his hospitalization at the state hospital in New Haven.
Patrick Tierney died at the state hospital in New Haven on Nov. 29, 1882.
Contributed by: see acknowledgment below
---
This biography has been extracted in its entirety from a story titled "New Haven monument honors forgotten Fenian hero" that was published in the Connecticut Irish-American Historical Society's newsletter 'The Shanachie' Vol. XXV No. 4 2013.
Click here to read the story in its entirety as it appears in the newsletter.
Click here to access CTIAHS's website.
---
cemetery AND grave location
NAME: St. Bernard's Cemetery PHONE NO. (203) 624-3980
ADDRESS: Columbus Ave, New Haven, CT 06511
---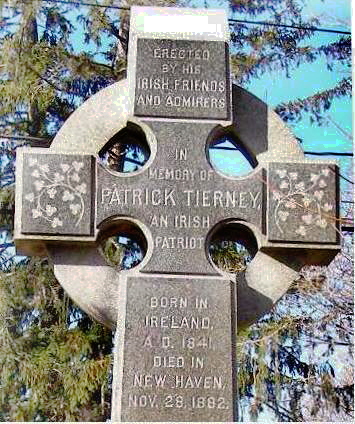 This monument was erected in St. Lawrence Cemetery in New Haven in 1898.
Patrick Tierney's remains are buried in nearby St. Bernard's Cemetery
---
Back to Biographies Posted 12/ 24/2013