Ernest Bernard O'Malley (1897 - 1957)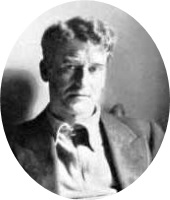 Ernie O'Malley was born in Castlebar, County Mayo, Ireland on May 26,1897 into a middle-class family the second of eleven children. His father worked in the Congested Districts Board, which managed land reform in the west of Ireland. In so far as politics was concerned, the O'Malley's were conservative nationalist who supporting the Irish Home Rule Party of John Redmond. .
The O'Malley children spent their summers at a rented house in Rosbeg near Westport in the care of a nanny. During these long summers young Ernie spend his much of his time exploring the area around Clew Bay -- an area he often referred to fondly in his later years. The family moved to Dublin in 1906 where Ernie continued his education at the O'Connell School in North Richmond Street.
After completing his secondary education at a Christian Brothers school he won a scholarship to University College Dublin (UCD) where, in 1915, he began to study medicine.
By all accounts O'Malley was apolitical until the 1916 Easter Rising. Deeply affected by what he witnessed during the weeklong confrontation between the vastly outnumbered Irish volunteers and the well equipped British forces, he decided to play his part in the struggle for the 32-county Irish Republic proclaimed by Pearse on the steps of the General Post Office on Easter Monday at the onset of hostilities. Such was his resolve that, together with a friend who owned a rifle, he took turns firing at British soldiers in the vicinity of the General Post Office.
The execution of the leaders of the Uprising further galvanized O'Malley's resolve to carry on the struggle started by the executed martyrs until their sacrifice for a sovereign 32-county Irish Republic was redeemed. He left his studies at UCD and by 1918 was fully occupied recruiting and organizing units in Tyrone, Offaly, Roscommon, Donegal, Clare, Tipperary and Dublin for the approaching showdown. .
Ireland's War of Independence started on January 21, 1919 when Sean Treacy, Dan Breen, Seán Hogan, Seamus Robinson and five other volunteers ambushed and shot dead two members of a Royal Irish Constabulary (RIC) contingent transporting explosives near the village of Soloheadbeg in County Tipperary. As a result of that attack the British declared martial law in South Tipperary.
Once hostilities commenced, Sean Treacy one of the leaders of the 3rd Tipperary Brigade placed O'Malley in command of one of its volunteer units. For the next two years O'Malley and his volunteers waged an effective guerilla war against the British colonial apparatus in Munster by attacking RIC stations and British army barracks, barricading roads and ambushing British Auxiliaries (Black & Tans) and RIC convoys. In May of 1920, together with Liam Lynch and a contingent of volunteers, raided the Hollyford barracks in Mallow, Co Cork and made off with a substantial quantity of rifles and machine guns.
On December 9th 1920, O'Malley was captured by British Auxiliaries in Inistioge, Co Kilkenny. He was taken to Dublin Castle where he was interrogated and tortured as 'Bernard Stewart' an alias he used to hide his real identity, which if discovered would have resulted in his execution. After being interrogated he was lodged in Kilmainham Jail in Dublin. On February 14, 1921, together with Simon Donnelly, he escaped with the assistance of a sympathetic British soldier who smuggled a bolt cutter into the jail.
At a meeting with Mulcahy and Collins On March 21, 1921, O'Malley was made Officer Commanding (O/C) of the Second Southern Division IRA comprising the Mid and East Limerick, South and Mid Tipperary and Kilkenny Brigades. In all, he had approximately 7,000 volunteers under his command.
At noon on July 11, 1921 a truce ending hostilities was signed. Five months later on December 6, 1921 the British imposed Treaty was signed. The Irish Republic proclaimed in 1916 was 'off the table' a British imposed precondition to negotiations with the Irish delegation. For good measure the British threw in the threat of restarting hostilities if a treaty was not signed.
O'Malley was the first Divisional Commander to reject the Treaty and repudiate the Provisional government. He opposed any settlement that fell short of an independent Irish Republic and was incensed that the Irish delegation would unilaterally sign such a document in the name of the Irish people under duress. The partition of Ireland and swearing allegiance to the British were not what the he and his comrades in arms had bargained for.
The inevitable Civil War that followed commenced on February 14, 1922, when Republican forces led by Rory O'Connor and O'Malley occupied the Four Courts in Dublin and made it the Headquarters of the anti-Treaty Republican forces. On June 28, after a standoff of several months, Collins, under pressure from the British, ordered an attack on the garrison. After a two-day bombardment with British supplied artillery the building lay in ruins. O'Malley was among the last to leave and was responsible for directing the garrison's surrender to pro-Treaty forces
After surrendering the garrison O'Malley escaped into the Wicklow mountains avoiding certain execution if captured. Shortly afterwards he was appointed Assistant Chief of Staff and Commandant of the Northern and Eastern commands of the Anti-Treaty IRA. He was HQ in Dublin. Later in November he was also appointed Commandant of the Western Command.
On September 24 1922, O'Malley stated in a letter to Liam Lynch that he "consider it imperative that some sort of Government, whether a Provisional or a Republican or a military one, should be inaugurated at once" One day later on September 25 Anti-Treaty members of the Second Dáil meet in Dublin and constituted themselves as a Republican Government. They appointed De Valera as President and also setup a 12-member Council of State.
On November 5 1922, O'Malley was captured after being seriously wounded at his HQ in Ailesbury Road. He was imprisoned in Mountjoy Jail where he remained under sentence of death until his release in 1924. His wounds and the dire diagnosis of the doctor, a former medical school colleague, who attended to his wound, saved him from the firing squad.
In the general election held in August of 1923, O'Malley stood as a candidate in the Dublin North constituency. He was duly elected but would not take his seat in the 26- county Free State Dáil, which would have required him to take an Oath of Allegiance to the British Crown. Later that year he went on a 41-day hunger strike with other Republican prisoners in support of their demands for unconditional release from jail. He was released in July of 1924 one of the last prisoners to be set free.
In 1927, after a period of recuperation and a two-year hiatus in Europe developing his intellectual interests he traveled to the United States initially on a fund raising trip to establish a republican newspaper the 'Irish Press'. For the next five years he traveled throughout California, New Mexico and Mexico spending some time in Taos, New Mexico where he lived with the family of Irish actor Peter Golden tutoring the Golden children. While in New Mexico he befriended a number artistic and literary figures including novelist D. H. Lawrence, artist Georgia O'Keefe, poet Hart Crane and photographer Paul Strand.
During that period of his life he wrote poetry and drafted the early editions of On Another Man's Wound and The Singing Flame. He returned to New York in 1932 where he continued to write poetry and short stories and lecture on Irish history and culture.
Shortly after he returned to Ireland in 1935 he married American socialite Helen Hooker, with whom he had three children. During the succeeding years he continued write poetry and was a contributor to the literary and cultural magazine The Bell. He consulted with John Ford on the movie The Quiet Man and spent time interviewing former comrades in arms for one of his last works Raids and Rallies which was published posthumously in 1978.
He was elected to the Irish Academy of Letters in 1947.
Ken Loach film The Wind That Shakes The Barley, is based O'Malley's biographical works and the character of Damien is based partly on O'Malley.
He suffered a heart attack in 1953. From then on his health deteriorated exacerbated by the bullet fragments in his body from the time of his capture by Free State forces during the Civil War and the toll exerted by his subsequent 41-day hunger strike.
Ernest Bernard O'Malley, a first class soldier to his comrades in arms and a worthy equal to his literary associates, died on the March 25, 1957 aged 59.
Contributed by; Tomás Ó Coısdealha
---
cemetery AND grave location
Name: Glasnevin Cemetery PHONE NO. 011 353 1 830-1133
ADDRESS: Finglas Road, Glasnevin, Dublin 11, Ireland
GRAVE LOCATION: O'Malley Family Plot
---
HEADSTONE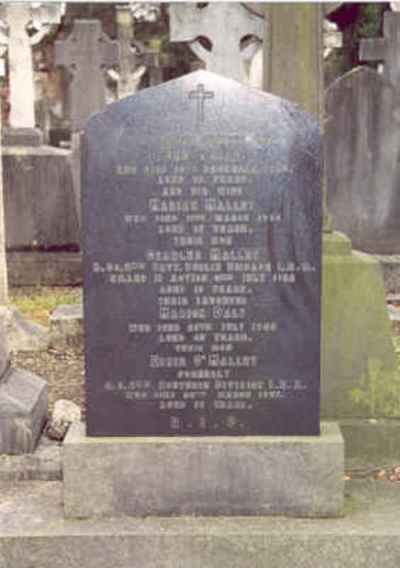 ---
Back to Biographies Posted 03/01/10