Mary Jane O'Donovan Rossa (1845 - 1916)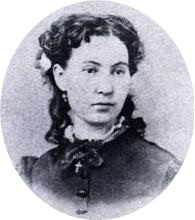 Mary Jane O'Rossa was born, Mary Jane Irwin, in Clonakilty Co. Cork on January 27, 1845 the first of ten children to Maxwell Irwin and Margaret Irwin (nee. Keohane).
Mary Jane grew up during one of the most turbulent times in Irish history. The events that played out during that time including the 'Great Hunger', the Young Ireland Rising of '48, the naissance of the Fenian movement and the subsequent Fenian trials would, in later years, have a major influence on her worldly views, life's work and choices.
The year of Mary's birth heralded the onset of the potato blight; a calamity in the making for Ireland and for so many of its people. In September of that year the first reports of potato blight appeared in newspapers and by October, when the potato crop was being harvested, the full extent of the spoil was evident. That first year over a third of the crop was lost to the blight; a tragedy in the making for over a third of the population that depended on the potato as their only means of sustenance.
Mary Jane was not directly affected by the ensuing 'Great Hunger' that caused the death of over a million people and the flight of over another million on coffin ships to the United States and Canada. As the Irwin's were owners of successful mercantile businesses in Clonakilty and nearby Sartagh, Mary and her siblings were shield from the starvation, evictions, and emigration that stalked the land from 1845 to 1851.
In 1860, presumably after receiving her primary education at the local national school in Clonakilty, Mary Jane enrolled in the Sacred Heart Convent's boarding school in Roscrea Co Tipperary where she excelled in a number of subjects including poetry, painting, music and literature. Her poetry and literary talent would serve her well in future years.
In April of 1864, shortly after completing her schooling, Mary Jane met Jeremiah O'Donovan Rossa at a family relatives funeral. According to O'Rossa they had met six, years earlier when he visited Clonakilty on a Fenian organizing trip. One of the men, of '48, he was to contact there was Maxwell Irwin. The knock on door was answered by a young girl, of twelve or so, who told O'Rossa that her father was away on business. Mary Jane, it seems, had no recollection of that meeting.
In October of 1864, Mary Jane, against the initial objections of her parents and the local parish priest, married, twice widowed, O'Rossa who at 33 years was fourteen years her senior. Her parents who admired Jeremiah for his passion and patriotism, nonetheless, feared that their marriage would portend future trouble and misfortune for their daughter.
Shortly after meeting O'Rossa, Mary Jane started writing poems for the Dublin based Fenian . newspaper the Irish People that was managed by O'Rossa.
In September of 1865 agents of the British government raided the Irish People office and arrested its staff including O'Rossa. Following the arrest of the Irish People staff leading members of the Irish Republican Brotherhood (IRB) were also arrested at various location throughout the country. Many of these leaders including O'Rossa were charged with "high treason" and sentenced to penal servititude for life.
That development would herald the beginning of a new troubling and challenging phase in Mary Jane's life; akin to that feared by her parents in their initial objection to her marriage to O'Rossa.
After O'Rossa's arrest the Attorney-General refused Mary Jane permission to visit him in Mountjoy Jail. To make matters worse her brother was also arrested in march of 1866. Due to ill-treatment and meager rations his health declined precipitously to the point where his life was in jeopardy. The only avenue open to Mary Jane was letters she had published in the Irishman newspaper accusing the government and its agents of maliciousness and pettiness against her and her family for perceived past grievances. For whatever reason her brother was released in May of 1867 either because of his poor health, bad publicity or perhaps a combination of both.
In October of 1865 Mary Jane and Letitia Luby together with the wives or relative of Fenian prisoners including Ellen and Mary O'Leary, Mrs. Dowling, Cathrine Mulcahy, Isabella Roantree established the Ladies Committee For The Relief Of State Prisoners. Mary Jane was the Committee's Secretary and Letitia Luby its Treasurer. The primary purpose of the Committee was to raise money for Fenian prisoners and their families.
The success of the Committee in raising funds had its up and downs. Pressure and threats from the authorities scared off some donors. Funds from the U. S. were disappointing considering the number of fundraising events taking place there . The split between the O'Mahony and Roberts factions of the Fenian Brotherhood did not help matters. By August of 1866 Mary Jane was herself in need of help. In order to make ends meets she began to draw a small salary from the fund.
On her second visit to O'Rossa in the early months of 1867 she told him of her intentions to emigrate to the United States in order to support herself as conditions in Ireland had worsened and her life there had become intolerable. In May of 1867 she set sail for New York leaving O'Rossa's five children and her own infant son behind in the care of her father.
On arrival in New York she found herself in midst of the factional fighting between the John O'Mahony and Roberts wings of the Fenian organization. She approached O'Mahony for assistance in finding a job. He promised he would find her work as teacher when an opening became available which, he informed her would not be for some time.
In August of 1867 Roberts took her under his wing, introduced her to his wealthy friends and brought her to his home where she stayed for a number of months. While residing at Roberts residence she compiled her poetry titled Irish Lyrical Poems, that was published in 1868 by R.M. Haverty a New York publishing company.
Another Fenian who helped her was Meath born General Charles G. Halpine (Miles O'Reilly) a veteran of the American Civil War and a successful poet, journalist and editor. It was he who persuaded Mary Jane to take elocution lessons so that she could become a public reader/speaker.
After she finished her lessons she undertook a tour of the United States and Canada. Her first appearance was at Cooper Union in the East Village of Manhattan where General Halpine introduced her to the audience. For the next year and a half she travelled extensively reading Irish patriotic poetry and stories to nostalgic and receptive audiences. She also reported on the ill treatment of Fenian prisoners in English jails and solicited funds to help their destitute families. Her professionalism and demeanor was a boost to the Fenian cause; a cause she proudly advocated in front of both friendly and not so friendly audiences.
One of the unfortunate incidents that Mary Jane got involved with was the O'Mahony versus Belmont lawsuit wherein O'Mahony sued bankers, Belmont & Co., to recover $20,000 held in trust by them for the Fenian organization. Unbeknownst to her, when she lodged a claim for $8,000 purportedly owed O'Rossa for financing the Irish People newspaper, was that she was being used as a pawn by some of the litigants who harbored grudges against O'Mahony. After much criticism and disapproval by O'Rossa who, did not wish to be associated with the lawsuit, she withdrew her claim.
!n 1869 when O'Rossa was elected a Member of Parliament for Tipperary Mary Jane renewed her efforts to have him released. To that end she visited Washington DC where she met with government officials including President Grant. On leaving Washington she had an official letter in her possession addressed to the American ambassador in London authorizing him to support her campaign to have O'Rossa released. Around the same time reports of the ill-treatment of Fenian prisoners began to surface resulting in pressure by the Amnesty Association and other prominent citizens to have the prisoners released. As a result of all the pressure and adverse publicity the government set up a Commission of Inquiry into the treatment of Irish Political Prisoners.
In January of 1870 Mary Jane set sail for England to launch her campaign comprised of letter to newspapers writing and a speaking tour of England and Ireland somewhat similar the her earlier U.S. tour. She received a great deal of publicity and praise from newspapers in both England and Ireland.
In December of 1870 bowing to pressure and negative publicity the British government granted a General Amnesty to the Fenian prisoners. O'Rossa, together with fellow Fenian prisoners, was released from Chatham prison in 1871. In compliance with the terms of his release he left for the U.S. aboard the "Cuba" with Mary Jane and their son James.
After the family arrived in the U.S. Mary Jane settled down to family life. She cared for her seven surviving children and later for O'Rossa four sons, from his first marriage, when they came to the U. S. Despite all the hardships she endured during the years O'Rossa imprisonment she, nonetheless, kept faith with Ireland's quest for freedom and continued to support O'Rossa who never gave up on his fight for Irish freedom. She instilled in her children a deep appreciation of their cultural heritage and ensured that they were well versed in Irish history. Although she could not speak Irish, a fact she always regretted, she made sure that her children could by enrolling them in Irish language classes.
In 1893 the O'Rossa's oldest son James, the only one of her children born in Ireland, died while serving in the U. S. Navy. He was injured in an accident aboard the ship he was serving on and succumbed to his injuries some months later. His death was a devastating blow to Mary Jane as James was her comfort, confidant and best friend.
In 1905, Mary Jane, O'Rossa and two of their daughters returned to Ireland where O'Rossa intended to spend the rest of his life. That was not to be as Mary Jane became ill and on medical advice the family returned the U.S. in June of 1906 where Mary Jane's health gradually improved.
In 1910 O'Rossa's began to suffer from ill health. After a lingering illness he died at St. Vincent's Hospital, Staten Island in June 1915. Mary Jane and her daughter Ellen attended his burial at Glasnevin Cemetery in Dublin. During her stay in Dublin she was constantly followed by British intelligence agents. Her hotel room was searched in her absence. Letters were stolen, however, her passport, the object of their search they did not find.
Mary Jane spent the last year of her life attending to O'Rossa's legacy. She railed against reports suggesting that O'Rossa stated before his death that he bore no hatred or ill-will against the British government. In responding she prefaced her rebuttal with O'Rossa's own words spoken from the dock "I am an Irishman since I was born" and then, in her own words, continued "that he was the same unconquerable Irishman, breathing the same unalterable desire for the absolute freedom of his country and its separation from England that he breathed in the dock".
Mary Jane died suddenly at her home in New Brighton, Staten Island on August 16, 1916.
Contributor; Tomás Ó Coısdealha
---
Cemetery
Name: St. Peter's Cemetery PHONE NO. (718) 442-2363
ADDRESS: 52 Tyler Ave, Staten Island, NY 10310
---
HEADSTONE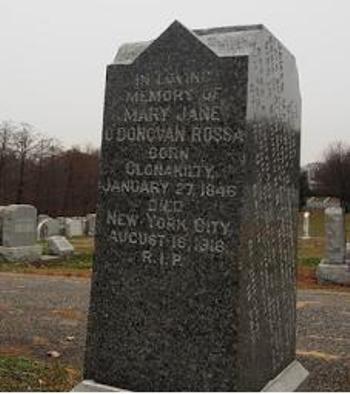 ---
Back to Biographies Posted 01/08/2015