Myles Walter Keogh (1840 - 1867)
Myles Walter Keogh was born on March 25, 1840 at Orchard House in Leighlinbridge, Co. Carlow. His father, John, was a prosperous farmer and his mother Margaret Blanchfield was from a wealthy Co. Kilkenny family. Myles and his siblings, four boys and eight girls, were reared in comfortable circumstances, protected from the ravages of the contrived famine gripping Ireland at that time. The family was staunchly Catholic and nationalist with a history of opposition to British rule in Ireland. One of Keogh's paternal uncles was hung for his participation in the 1798 rebellion.
Myles attended the National School in Leighlinbridge and from some accounts attended a Classic School where he studied languages. He was fluent in French and possibly in other European languages. He continued his education at St. Mary's Knockbeg College, a lay school for boys affiliated with St. Patrick's College, Carlow a seminary for boys studying for the priesthood.
Myles could have had an easy life in Ireland, if he had chosen to do so. However, the staid life of farming did not appeal to his romantic and adventurous spirit. He yearned for adventure in faraway places, a yearning shared by many of his countrymen who sought glory as soldiers of fortune.
Loath to bear arms for the British who continued to ravage Ireland and who had hanged his uncle for his role in the 1798 Rising, Myles looked elsewhere for the right opportunity to test his skills and courage on the field of battle. That opportunity came in 1860 when Pope Pius IX called for young catholic men to help preserve the independence of the Papal States which were threatened with annexation by the armies of Piedmont-Sardinia who viewed the continued existence of the Papal States as an impediment to a united Italy.
Myles eagerly responded to the Pope's call and together with 1,400 other young Irishmen set sail for Italy to join with other Catholic volunteers from countries throughout Europe to defend the Papal States. Within a few months of enlisting he was appointed lieutenant in a four-company battalion garrisoned in the Adriatic port city of Ancona. On September 18, the main body of the 18,000-man Papal Army was defeated in the battle of Castelfidardo.
Myles and his Irish Battalion distinguished themselves by their gallant defense of the port city of Ancona, before it was overcome on September 29, 1860. After that battle which ended the war the Irish Battalion returned home, with the exception of 46 men, including Myles, who remained in the Vatican as part of the Papal Guard as the green-uniformed "Company of Saint Patrick.". Every member of the Irish Battalion received a Papal Medal, Pro Petri Sede, for defending the Throne of Peter. Myles got a further honor 'the Order of Saint Gregory the Great'. for distinguished service and bravery.
Life in the Vatican as a member of the Papal Guard did not suit the restless Myles. The outbreak of the American Civil War and the Union Army's need for experienced officers was the perfect opportunity for him to return to the battlefield. The Lincoln administration had sent Archbishop John Hughes of New York to Rome to recruit experienced officers from the veterans of the Papal War. Myles and two of his comrades Daniel J. Keily of Waterford and Joseph O'Keeffe, nephew of the Bishop of Cork, volunteered.
In March of 1862 Myles resigned his commission in the Company of Saint Patrick, and with Daniel J. Keily returned to Ireland for a brief visit before boarding a steamer bound for New York. On arrival they met up with Joseph O'Keeffe in Manhattan. Through Secretary Seward's intervention the three of them were commissioned Captains of Volunteers in April of 1862, and assigned to the staff of Irish-born Brigadier General James Shields, whose forces were about to confront the Confederate army of Stonewall Jackson in the Shenandoah Valley.
In his first battle at Port Republic, the patrol he was leading nearly captured Stonewall Jackson. After that battle Myles was transferred to General McClellan's personal staff and served with him during the Battle of Antietam. After McClellan's removal from command, Myles was reassigned to General John Buford's staff. As a member of General John Buford's cavalry, Myles earned a brevet promotion to Major for bravery at Gettysburg as part of the cavalry's heroic delaying action during the first day of the battle that proved key to the eventual Union victory. Shortly after the Battle of Gettysburg, Buford became ill and was brought to Washington by Myles who attended to him until his death in December of 1863.
After Buford's death Myles was transferred to the Western Theater where he served as chief of staff to General Stoneman. He remained active until the end of the war, leading raids in Georgia, North Carolina and Virginia. These risky raids behind Confederate lines were also designed to free federal prisoners held at Macon, Georgia. On July 31, 1864, Keogh and Stoneman's command were surrounded during the Battle of Sunshine Church, Georgia. They were captured after both their horses were shot out from under them. Myles was held for over two months as a prisoner of war before being exchanged for Confederate officers. He would later receive a second brevet with promotion to lieutenant colonel for his gallantry with Stoneman at the Battle of Dallas.
After the war, Myles obtained a commission as captain in the Regular Army as part of the U.S. 7th Cavalry Regiment under George Armstrong Custer. He was given command of I Company and assigned to Fort Wallace, a frontier post in Kansas. During the next number of years he took on a number of duties including that of Inspector-General to the staff of General Alfred Sully. In 1869 he became an American citizen and returned to Ireland to visit his family.
From 1870 through 1874 he spent time in Kansas, Kentucky, South Carolina performing various duties including scouting for the 7th Calvary, enforcing government policy against strong Ku Klux Klan opposition, and providing security to the Northern Pacific Boundary Survey expedition.
In 1865 the situation between the US government and the Indigenous peoples of North America was deteriorating rapidly with many of the treaties broken or ignored by the US government. General Sheridan ordered the 7th Cavalry into Dakota to force the Indigenous people onto reservations. In June of 1867 Army Scouts discovered village of Indigenous people and a vast herd of ponies in the valley of the Little Big Horn. Custer and his 7th Cavalry marched towards the village to the tune of Garryowen, with 12 companies and about 600 soldiers in total. Custer had orders to wait for reinforcements before attacking, an order he ignored..
When Keogh rode out with Custer as the captain of Company I of the 7th Cavalry, it appears that Keogh had a premonition of his death. Myles had inherited his mother's family estate in Ireland, but had signed it over to his sister. He had taken out a life insurance policy and had requested that the wife of one of his officers burn his personal papers in the event of his death. Finally, Keogh left instructions that in the event of his death, he wished to be buried near friends in Auburn, New York.
The Battle of the Little Big Horn was fought on the 25th June 1876. Crazy Horse, Gall and Red Horse closed in a pincer movement around Custer and his soldiers, a historic calamity that became known as "Custer's last stand' a stand that ended in his death and that of his soldiers. Keogh died in a "last stand" of his own, surrounded by the men of Company I. When the sun-blackened and dismembered dead were buried three days later, Keogh's body was found at the centre of a group of troopers that included his two sergeants, company trumpeter and guidon bearer.
There were no US Army survivors. The bodies of the soldiers were scattered over a wide area from near the Little Big Horn river up along the hill. Who died first or last? No one knows.
Keogh's horse, Comanche, is considered the only survivor of the battle, though several other badly wounded horses were found and destroyed at the scene. Keogh's remains were interred in Ft. Hill Cemetery in Auburn, New York. His bloody gauntlets and the guidon of his Company I were recovered by the army three months after Little Bighorn at the Battle of Slim Buttes.
Contributed by; Tomás Ó Coısdealha
---
cemetery AND grave location
Name: Fort Hill Cemetery LOT: 1-3
ADDRESS: 19 Fort Street, Auburn, NY., 13021 PHONE NO. 315-253-8132

---
HEADSTONE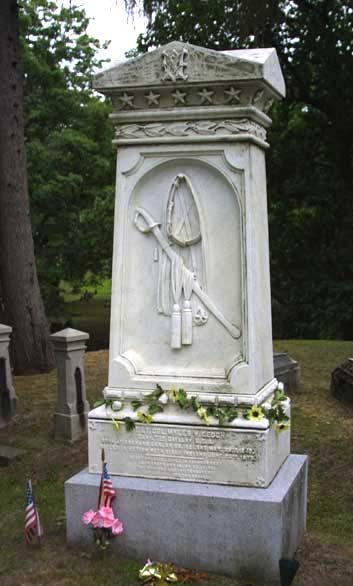 click on the headstone inscription to enlarge
---
Back to Biographies Posted 01/27/11