William James MacNeven (1763-1841)
William James MacNeven was born at Ballynahowna, Co. Galway, Ireland on March 21, 1763, the oldest of four sons. While still a youngster his mother and two of his siblings died, probably from one of the many disease epidemics, including smallpox and scarlet fever prevalent in Ireland at that time.
The MacNeven family ancestors were wealthy Ulster landowners before being dispossessed of their lands and forced to relocate to Connacht by Cromwell after the end of the Irish Confederate Wars in 1653. Possibly, because they had no direct involvement in the rising of 1641 or the ensuing Confederate Wars, they were allowed to own small estates in Connacht. Williams' family inherited one of these estates, which provided them with a comfortable living. Compared to their fellow Catholic neighbors they were reasonably well off.
Notwithstanding the fact that they owned land, as Catholics, they had no other rights or legal recourse under the Penal Laws. These laws were first enacted by the British Parliament in 1695 and amended in 1753 to further punish Irish Catholics for their participation in the uprising of 1641 and the ensuing Confederate Wars. The object of these laws was to (1) deprive Catholics of all civil liberties (2) reduce them to a condition of ignorance and (3) to dissociate them from the soil. These repressive and draconian laws, originally directed at the native Irish Catholics, were amended over time to curb the growing influence of the Presbyterians whose loyalty to the realm was suspect.
Precluded by the Penal Laws from attending school, MacNevens' early education was either through home schooling or by clandestinely attending a hedge school which, if caught was punishable by a fine of ₤20.00 and a three month jail sentence. At age eleven having no other recourse to further his education in Ireland he was sent to Prague to live with his uncle, William O'Kelly MacNeven, . His uncle a skilled physician, attended to the Empress Marie Theresa of Austria. who made him an Austrian noble for his faithful service and extraordinary medical skills.
After completing his classical studies in Prague, MacNeven went to Vienna to study medicine. In 1783, both he and his brother Hugh, who had joined him in Prague, graduated with medical degrees from the Medical University of Vienna. The following year both of them returned to Dublin to practice medicine. During the ten years or so he had spent on the continent he acquired an extensive knowledge of modern languages including French, German and Italian, which he spoke fluently. He was also a native Irish speaker.
With a medical degree from the renowned Medical University of Vienna, MacNeven established a very successful and extensive medical practice in Dublin. During these years he was active in public affairs and a member of the Catholic Committee. The Committee was formed to safeguard Catholic interests and obtain a relaxation or repeal of the Penal Laws. The Catholic Committee in Dublin included such luminaries as Theobold Wolf Tone, James Napper Tandy and Thomas Addis Emmet.
In 1791, Wolfe Tone and other reformers founded the Society of the United Irishman in Belfast to agitate for an end to religious and political bigotry, the Equal Distribution of the Rights of Man, civil rights and equal opportunity for all, Catholic emancipation and parliamentary reform.
Shortly after the Society was founded in Belfast, Napper Tandy, MacNeven and others activists founded a branch in Dublin. MacNeven and Richard McCormick were the only Catholics amongst the twelve founding members.
In order to counter a potential threat from the expanding ranks of the Society of the United Irishmen the Anglican ruling elite, always wary and concerned for their privileged status, granted limited rights to the educated Catholics. At the same time the ruling elite passed new laws aimed to curtail any challenge to their rule including provisions to handle unlawful assemblies and the importation of arms. These laws were augmented by a substantial increase in the standing army and the legitimizing of unfettered searches by magistrates when ever or where ever they pleased. They also had paid informers planted within the ranks of the Society. These measures negated any concessions they ( the Anglican ruling elite) had made earlier and also caused a shift within the leadership and ranks of the Society's from a position of political pressure to that of armed confrontation.
In 1797, MacNeven, acting as emissary of the Society, met with the French Minister in Hamburg seeking military and financial assistance to support a planned uprising in Ireland against the British occupiers. The French were ambiguous in the response prompting the Society to proceed with their plans with or without French assistance.
All along the British were kept abreast of the Society's plans by traitors planted within the leadership of the Society. On March 12, 1798, the British, acting on information providing by the traitor, Thomas Reynolds, arrested Oliver Bond and fourteen other delegates assembled in committee in Bond's house in Dublin. MacNeven, Arthur O'Connor and Thomas Addis Emmet were arrested at their homes later that day.
MacNeven was imprisoned in Kilmainhaim jail with O'Connor, Emmet and eighty or so other prisoners. After interrogating the prisoners the British concluded that the prisoners had little to add to what they already knew from their network of spies. In the latter half of 1798 the prisoners held in Kilmainhaim were released except for twenty of the leaders including MacNeven and Emmet, who were sent to Fort George in Scotland where they were confined until the Treaty of Amiens in 1802.
Their transfer to Fort George was due to the refusal of the Unites States government to grant MacNeven, Emmet and the others permission to emigrate to the U.S. a desire expressed by them and agreed to by the British. The decision to deny them entry was orchestrated by Rufus King the United States ambassador to the Court of St. James during the John Adams Presidency.
The Treaty of Amiens marked a lull in the war between the Britain and France. France included the names of the Irish prisoners held at Fort George in the list of prisoners to be exchanged. After an internment of three years and three months he and the other prisoners were released on condition that they never return to Ireland.
After his release MacNeven spent time traveling in Europe before joining the French Army as a surgeon-captain in the Irish Brigade with the hope of gaining that country's aid for an invasion of Ireland. He soon realized, however, that Bonaparte was using the existence of the Brigade only as a threat to England and with that knowledge resigned his commission and set sail for the United States in June of 1805.
By this time John Adams was no longer President so entry to the U.S. was a non-event. In 1807, when Rufus King, the same gentleman responsible for denying them entry to the U.S. in 1798, stood for election to the New York assembly on a Nativists "American ticket", MacNeven, Emmet, Sampson and George Cuming had sufficient clout within the Irish voting block to deny him victory and effectively end his political career.
Upon his arrival in New York, MacNeven was warmly greeted by old friend who introduced him to prominent New Yorkers. With his impressive medical credentials and leadership qualities his rise to fame in the medical profession was rapid.
In 1807, MacNeven delivered a course of lectures on clinical medicine in the newly established College of Physicians and Surgeons in New York, where in 1808 he was appointed Professor of Midwifery. At the reorganization of the institution in 1810 he was appointed Professor of Chemistry, and in 1816 he received the additional appointment of Professor of Materia Medica.
In 1810 he married he married Mrs. Jane Margaret, widow of John Tom a New York merchant and daughter of Samuel Riker of Long Island, a descendant of the early Dutch settlers. The had four children. Their youngest child, Jane Maryanne MacNeven,wrote the life of her father for Madden's, The United Irishmen, Their Lives and Times.
In 1826, MacNeven and six of his colleagues resigned from the College of Physicians and Surgeons because of a dispute with the New York Board of Regents. Together with his colleagues he helped found the Duane Street medical school in New York a branch of the New Jersey Rutgers Medical College
Despite his fame and prominence as a distinguished luminary in the medical community MacNeven was a man of the people who did not forget his less fortunate countrymen and women. He was involved in many endeavors to better their lives including chairman of a committee of distinguished Irishmen for the settlement of Irish farmers and farm laborers on American lands. He also established an employment agency for Irish emigrants who were arriving in New York in large numbers. In 1827 he opened a free registry office for the benefit of Irish domestic servants. This service also included directions for naturalization.
During his 36 years in America he kept abreast of the political situation in Ireland and the men and women who continued the struggle for Irish Independence that he and his comrades including Tone, Emmet, Fitzgerald, Bond, McCormick set in motion.
His published works included: An Argument for Independence in Opposition to a Union; A Ramble through Switzerland; Pieces of Irish History; Brande's chemistry; Exposition of the Atomic Theory and the Nature and Functions of an Army Staff.
William James MacNeven died on 12th July 1841 at the age of 78 at the home of his son in law, Thomas Addis Emmet Jr.
There is a monument erected in honor of Dr. MacNeven in St. Paul's Churchyard, New York.
Contributed by; Tomás Ó Coısdealha
---
cemetery AND grave location
Name: Riker-Lent Family Burial Ground PHONE NO.
ADDRESS: 78-03 19th St, Astoria, Queens NY
GRAVE MARKER: 74
---
HEADSTONE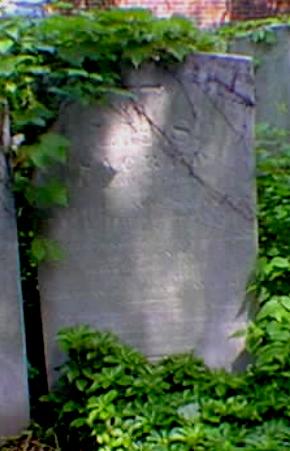 click on headstone to read inscription
---
Back to Biographies Posted 06/10/10