John Edward Kelly (1840 - 1884)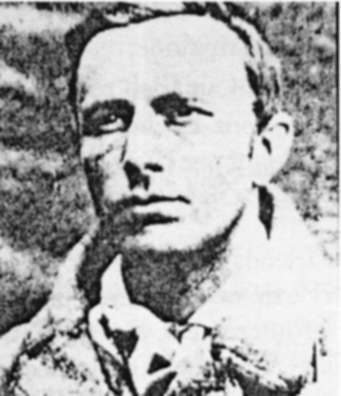 John Edward Kelly was born in Kinsale Co. Cork on July 6, 1840 into a moderately well-off Protestant family. When John was two years old the family emigrated to Halifax, Nova Scotia; a preferred destination for the Irish at that time. The Kelly's were amongst the 140,000 emigrants who left Ireland for Canada between the years 1840 and 1844.
At that time of John's birth the population of Ireland was at its peak of 8 million; an increase of 4 million over the past 50 years. That same year Daniel O'Connell launched the National Repeal Association whose objective was, through constitutional means, to repeal the Acts of Union of 1801 that forcibly united the United Kingdom of Great Britain and Ireland. By 1843, O'Connell crusade petered out as the British were not in a giving mood, particularly regarding the Irish. The failure of the Repeal movement gave birth to the United Irishmen, an organization whose objective was to free Ireland from British control through any means possible including force. The United Irishmen preceded the Fenians. The Fenian movement would play a significantly role in Kelly's life some 20 years later.
Such was the state of affairs in Ireland when the Kelly family departed, hopefully for a better life in Canada. Their departure was timely as they avoided the agony and devastation of the Great Hunger that plagued Ireland in the latter years of the1840's.
Kelly, who was a bright and eager student received his education in Halifax. During his student years he displayed an artistic flair, a talent that would later help him succeed in his chosen craft. When he completed his formal schooling he moved to Boston where he served his apprenticeship in the printing business. At some point during his time in Boston he became a student of Irish history, particularly as it related to the oppressive and brutal British occupation of Ireland.
The true nature of that oppression was laid bare for all to see by the arrival of Famine ships in Canada and the United Stated filled with the dead and dying victims of cholera and other diseases brought on by the avoidable Great Hunger of the late 1840's; a human catastrophe lorded over by an uncaring British government.
After completing his apprenticeship Kelly relocated to New York where he found work in the printing business. He also became a member of the Fenian Brotherhood, an Irish Republican organization established in New York in 1858 by John O'Mahony, Michael Doheny and other veterans of the Young Ireland Rising of 1848. Considering that Kelly left Ireland as a child it is somewhat of a mystery how he became knowledgeable of and involved in Ireland's quest for freedom. Irrespective of the motivation he remained true to the cause for the remainder of his life.
In order to gain the military experience necessary to help oust the British from Ireland Kelly joined the Phoenix Zouaves a militia regiment of the Fourth Regiment Empire Brigade of the Union Army. After acquiring considerable practical and theoretical military knowledge he returned to Boston where he became an instructor to the Emmet Guard, an outgrowth of the Fenian Brotherhood.
In 1861, with the support of like-minded friends in Boston Kelly returned to Ireland to organize and train members of the Irish Republican Brotherhood (IRB) for a planned uprising against the British oppressor. The IRB was a sister organization of the United States based Fenian Brotherhood. From the time of his arrival in Ireland up until the uprising of 1867 he spent most of the time in Cork interspersed by short stays in Dublin and London. While in Dublin he worked for the Irish People newspaper, that was subsequently seized by British intelligence. Staff members including Jeremiah O'Donovan Rossa were arrested, charged with high treason and imprisoned for life. The arrest were carried out on information provided by the traitor, John Joseph Croydon
After the arrest of O'Donovan Rossa and other leaders of the IRB in 1865 plans for pending uprising were in disarray. Although up to 100,000 Fenian recruits were ready to battle the absence of a central command doomed any chance of success. Nevertheless, in March of 1867 various groups of ill-equipped Fenians throughout the country attempted the impossible. John Edward Kelly was amongst these brave men. On March 5, 1867, together with Peter O'Neill Crowley and Captain John McClure, he fought a pitched battle with a 300 strong contingent of British soldiers and police in Kilclooney Wood close to Mitchelstown in Cork.
Peter O'Neill Crowley a native of East Cork was fatally wounded and died shortly afterwards in Mitchelstown. Kelly and McClure were arrested charged with high treason and sentenced to be hanged, drawn and quartered. The sentence was later commuted to penal servitude for life. On October 12, 1867, Kelly together with 62 other Fenian prisoners were placed aboard the Hougoumont the last convict ship to set sail for the remote "escape-proof" Fremantle Prison in western Australia.
Kelly was amongst the Fenian prisoners released in the British government's general amnesty of 1870/1. Behind the "generosity" of the English was heavy pressure by the U.S. government to free the scores of former U.S. Army personnel, including generals and colonels. The U.S. government intervention was the result of Fenian instigated pressure, primarily in letters from John Savage to president Ulysses S. Grant.
Many of those released made their way to the United States. Kelly first choice was New Zealand, but, on arriving there found out the felons were not welcome. He was given two weeks to leave, otherwise, he would be imprisoned. With few or no other options available in the short time he was given to leave he returned to Australia where he spent the next four years. While in Australia he worked a number of jobs including a stint in the in the gold mines. He also founded a Fenian support group in Sydney and managed a newspaper for a short period of time before returning to the United States in 1876. He spent some time in California before returning to Boston.
John Edward Kelly continued to work for a free and sovereign Ireland until his untimely death in 1884.
---
In November of 1885, John Boyle O'Reilly paid homage to the memory of his fellow Fenian, John Edward Kelly, at his graveside in Mount Hope Cemetery with the following words;
"The highest honor that a man can bear in life or death is the scar of a chain burns in a good cause. Standing here by the grave of a man who lived and died humbly, modestly and poorly, we are not deceived by lowliness, by poverty, nor even by errors. We find that, after the sifting of death and years, there remains to us his courage and devotion."
In his short life this man illustrated many phases of the Irish question. He left Ireland in his childhood, but the patriotic fire strong as strongly in exile .... He was a Protestant in religion, but he was as true to Ireland as Wolfe Tone and the tens of thousands of living Irish Protestants who are Irish patriots. It is fitting that this stone should be erected to a dead rebel.
---
Click here for a view of the Kilclooney Woods and the nearby monument dedicated to the memory of Peter O'Neill Crowley, who was killed there, and his compatriots who fought for Ireland's freedom.
Contributed by; Tomás Ó Coısdealha
---
cemetery AND grave location
Name: Mount Hope Cemetery PHONE NO. (617) 635-7361
ADDRESS: 355 Walk Hill St, Mattapan, MA 02126
---
GRAVE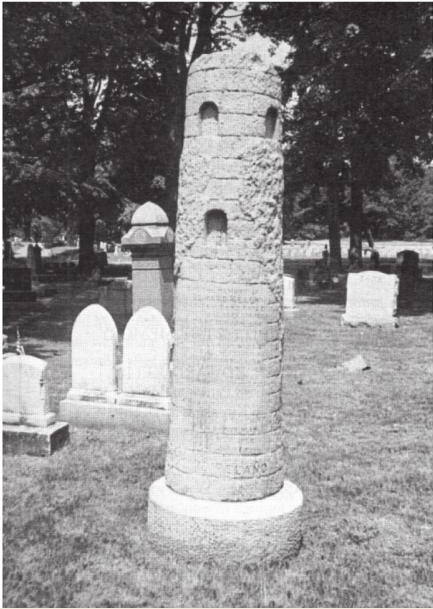 ---
Back to Biographies Posted 11/06/2012