Michael Flannery (1902 - 1994)

Michael Flannery was born in 1902 in Co. Tipperary, Ireland into a staunchly Republican family with a long history of opposition to the British occupation of Ireland. At the age of 14, while attending Mount St. Joseph's Monastic School in Knocksheegowna, he was forced to flee to avoid being arrested by the Royal Irish Constabulary who had begun a campaign of incarcerating family members of Republican activists at the behest of the British. After evading capture, Mike joined the North Tipperary Brigade of the Irish Republican Army. Before his fifteenth birthday he took an oath of allegiance to the Irish Republic and fought in the Irish War of Independence..
After the infamous Treaty of 1922, which partitioned Ireland into two sectarian states, Mike took up arms again, this time against the forces of the Irish Free State. He did so as he was unwilling to break his oath of allegiance to the Irish Republic and accept anything less than a free and united Ireland. He was subsequently captured and imprisoned by forces of the Irish Free State. After two years in Mountjoy Jail, he and his comrades went on hunger strike seeking political prisoner status. He was subsequently freed in 1924.
Mike immigrated to America in 1927. During his early years in America he met and married his wife Margaret "Pearl" Eagan who was also involved in the fight for Irish freedom. Down through the decades, Mike assisted Republican activists who sought refuge in America including Ernie O'Malley in the late 20s, Andy Cooney in the early 50s and others in the 70s and 80s.
Mike was a member of several organizations including the Tipperary Men's Association, the Gaelic Athletic Association and Clann na Gael. He was also a co-founder of Irish Northern Aid. In 1982, together with George Harrison, Patrick Mullin, Daniel Gormley and Thomas Falvey he was acquitted of sending arms to the IRA.
During the trial in Brooklyn he lectured the federal prosecutor about American history by demonstrating an impressive knowledge of the American Revolutionary war and particularly the role of the Colonel Edward Hand (from Clyduff, Offaly) who led a small rear-guard force in a series of brilliant but difficult-to-execute delaying actions in the face of a large English force at the Battle of Princeton, thus allowing General Washington to barely escape envelopment while his entire army was returning to its winter home-base back across the Delaware River to the security Valley Forge.
Throughout his life Mike sent aid and encouragement to those refusing to accept the British occupation of Ireland or acknowledge the legitimacy of two sectarian states, the products of partition. Not only did Mike rebuff those who abandoned Republican principles in the 20s, 30s, 40s and 60s; he, together with George Harrison, characterized the 'Provos' abandonment of Republican principles in 1986 as the "same old departure". After returning from a visit to Ireland in 1987, Mike along with George Harrison and Joe Stynes founded Cumann na Saoirse Naisiunta - The National Irish Freedom Committee to carry the torch of Irish Republicanism in America.
Mike passed away on September 29, 1994. He was a true son of Ireland and a worthy citizen of his adopted country, the United States of America. Mike's legacy lives on and the torch of Irish Freedom that he carried throughout his entire life continues to burn brightly.
---
cemetery AND grave location
NAME: Mount St Mary's Cemetery PHONE NO. (718) 353-1560
ADDRESS: 17200 Booth Memorial Ave, Flushing, NY 11365.
GRAVE LOCATION: Division 7.
---
HEADSTONE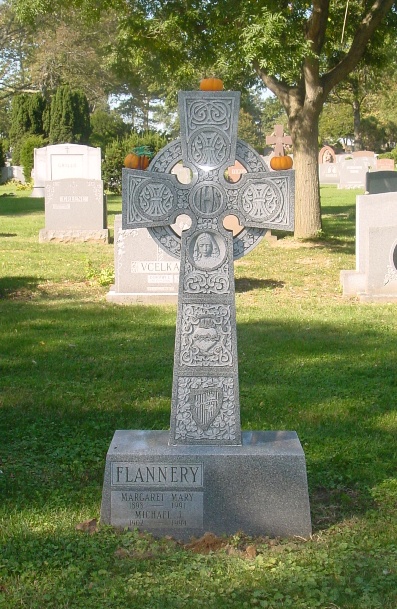 ---
Back to Biographies Posted 11/15/08