Margaret 'Pearl' Flannery (1898 - 1991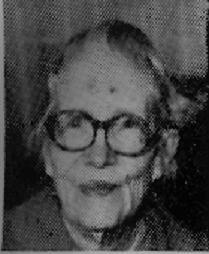 Margaret (Pearl) Egan was born in 1898 to Patrick and Catherine Egan at Ballyvoneen, Mullinahone in Co Tipperary. She was educated at the local National school and Loreto Convent, Balbriggan. She was awarded a Co. Tipperary scholarship to University College Dublin (UCD) from whence she graduated with a degree in chemistry.
She was the first Irishwoman to receive a scholarship to Heidelberg University in Germany where she studied for a doctorate degree. This was no mean feat for an Irishwoman of the times. Apart from English, she was also fluent in Irish, German and French. During the 'Troubles' and the Civil War, the Egan home at Ballyvoneen provided food and shelter for the Flying columns. Pearl's father was the leader of the First Tipperary Brigade of the Irish Republican Army and her two brothers were brigade officers. Both brothers were interned in the Curragh prison camp during the Civil War, as was her husband-to-be Michael Flannery.
Her student years in Dublin coincided with the great revival of national feeling resulting from the Easter Rising of 1916. As a member of Cumann na mBan she canvassed for one of the Sinn Fein candidates in the 1918 General Election. On Election Day, Dec. 14, she was assigned to a house in Ringsend with another student to feed the volunteers guarding the ballot boxes. They buttered innumerable loaves of Boland's bread which they served with a horrible looking beverage made from tinned "cafe au late' and boiling water.
She had a ticket for the first meeting of Dail Eireann in the Mansion House on Jan. 21, 1919 and had a vivid memory of the roll call. Of the 73 Republicans elected, 36 were in jail and the response, as name after name was called, was "Fé ghlas ag Gallaibh"
Having won 75 out of 105 seats in the 1918 General Election Sinn Fein established an independent Irish parliament, Dail Eireann, and declared the sovereignty of Ireland as a Republic. They formed independent institutions including a functioning central government, ministerial departments and republican courts of law. The Irish Volunteers became the Army of the Republic, under the Ministry of Defense and pledging its allegiance to Dáil Éireann. For the rest of her life Pearl remained true to that Dáil and it's declaration of an Irish Republic. She scorned the many betrayals of that declaration that followed.
Later, on her departure to the U.S., 'C' Company of the IRA paid her tribute for her support in the most dangerous of times when all were 'solely tested'. Pearl worked for many years as a research chemist for major chemical companies in the U.S.
In 1928 she married Michael Flannery, a fellow revolunationary and veteran of the War of Independence and Civil War. The settled down to married life in Jackson Heights in Queens New York.
Pearl's interests included literature, classical and traditional music. She was several times adjudicator of the violin competition at the Irish Counties Feis in New York.
When the years began to take their toll, Pearl was unable to make public appearances with Michael, but she was by his side when Michael was the Grand Marshall of the St. Patrick's Day Parade in 1983. In 1982, Pearl attended the trial of the IRA Five every day and was present when the jury returned a much more than innocent verdict - they declared the righteousness of all involved in the struggles for Irish freedom.
Finally, and sadly, Dr. Margaret Pearl Flannery, the gracious lady of compassion and strength, died on November 21, 1991. Three years later, her unrepentant Fenian husband, fellow revolutionary and founder of Cumann Na Saoirse, died on September 30, 1994. They are buried side by side in Mount St. Mary's Cemetery in New York.
---
cemetery AND grave location
NAME: Mount St Mary's Cemetery PHONE NO. (718) 353-1560
ADDRESS: 17200 Booth Memorial Ave, Flushing, NY 11365.
GRAVE LOCATION: Division 7.
---
HEADSTONE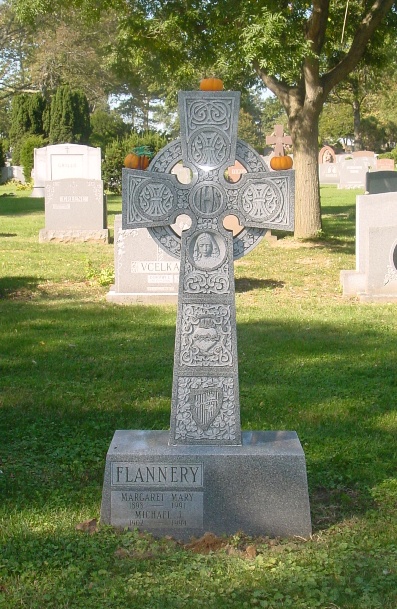 ---
Back to Biographies Posted 08/28/08