James Connolly (1868 - 1916)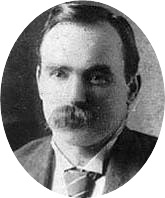 James Connolly was born in Edinburgh, Scotland in June of 1868, the youngest of three sons born to Irish born parents, who had emigrated to Scotland in the 1850's. They lived in the Cowgate; one of Edinburgh's worst slums nicknamed 'Little Ireland' because so many Irish refugees from the contrived famine of the 1840's lived there. Connolly went to St Patrick's School in the Cowgate until age eleven when he left to work at the Edinburgh Evening News, followed by stints in a bakery and a mosaic tiling factory. Although self-educated he went on to become a formidable organizer, lecturer and writer and was fluent in a number of languages including German , Spanish and Italian.
In 1882 at the age of 14, he joined the Second Battalion of the Royal Scots. At that time the army was the only way out of the ghetto for so many young men. The alternative was a life of poverty and despair compounded by rampant discrimination. and anti–Irish prejudice.
He spent seven years in the army serving most of that time in Ireland; first in Cork and later in Dublin. While serving there he witnessed, first hand, the mistreatment of the Irish people by the British army and the ruthless landlords they were there to protect. In 1889, having seen enough he deserted the army and returned to Scotland. What he experienced during his service in Ireland was to have a major influence on the rest of his life.
He also met his future wife, Lillie Reynolds, while serving in Ireland. After his marriage to Lillie in 1890 he joined his father and brother working as a laborer with the Edinburgh Corporation. During this period he became active in socialist and trade union circles and became secretary of the Scottish Socialist Federation after his brother John, who was secretary, was fired by the corporation for advocating an eight hour day.
In May of 1896, at the invitation of John Leslie of the Scottish Socialist, Connolly went to Dublin as a paid organizer for the Dublin Socialist Society. As a result of his persistent cajoling the society evolved into the Irish Socialist Republican Party (ISRP), who would go on play an important role in the uprising 1916. He was also instrumental in founded the organization's newspaper 'The Workers Republic'. In 1902 through 1903 he completed lecture tours of Scotland and the United States
By late 1903, Connolly was the father of six children. Conditions for the working people in Ireland was hopeless and in an effort to provide a better life for his young family he set sail for the United States. After his arrival and lived in Troy, New York with his cousin where he found work with the Metropolitan Life Insurance Company. It took him some time to save enough to rent a house and send for his family. In the summer of 1904 they were all ready to set sail and join him. The night before they were scheduled to depart his oldest child was tragically killed in an accident. (The James Connolly Society of Canada and the United States erected a monument to James Connolly in Troy in August of 1986)
In 1905, Connolly relocated with his family to Newark, New Jersey where he worked as a as a machinist with the Singer Sewing Machine Company. In 1906 he became a member of the American Socialist Labor Party and a paid organizer for the Industrial Workers of the World (the "Wobblies") founded in Chicago in 1905 by, amongst others, William D. Haywood and Daniel De Leon. He also founded a monthly paper, the Harp, which aimed to reach Irish emigrants and published two pamphlets on his socialist philosophy -- The Axe to the Root and Socialism Made Easy.
During his years in the United States, Connolly retained a deep interest in political, trade union and cultural events as they unfolded in Ireland. In 1910 his dream of returning to Ireland became reality when former comrades invited him to return to become national organizer for the newly-formed Socialist Party of Ireland. In 1911 he was appointed Belfast organizer for the Irish Transport and General Workers Union founded by Jim Larkin. He became the unions General Secretary in October of 1914 after Larkin departed for the United States.
In 1912, he helped found the Irish Labour Party and was instrumental in reviving "The Worker's Republic" newspaper. He also became active in the workers opposition to the Employers Federation and was instrumental in organizing the Irish Citizens Army during the so-called 'Great Lock-Out' of 1913 to protect striking workers from attack by goons hired by the employers.
After Britain declared war on Germany in August 1914, Connolly viewed, as did others Irish leaders, Britain's involvement in yet another war as an opportunity to strike a blow for Irish freedom. By January of 1916 Connolly had reached agreement with the Irish Republican Brotherhood Military Council to co-operate in an uprising the following Easter. He joined the Council, and on the day before the Rising he was appointed vice-president of the Irish Republic and Commandant-General, Dublin Division, Irish Army
Connolly was one of the seven signatories of the 1916 Proclamation. On Easter Monday, 24th April, he led the Headquarters Battalion from Liberty Hall to the General Post Office where he commanded military operations, including the construction of defenses, the placement of his forces and the deployment of reinforcements. He was a fearless leader and the fact that only nine volunteers died during the fighting is proof of his extraordinary leadership and tactical ingenuity. The safety of his men was paramount and even after being severely wounded on 27th April, he remained, as Patrick Pearse said, "still the guiding brain of our resistance".
After the Irish forces surrendered on April 29th, Connolly, was arrested with the other leaders, court-martialed and sentenced to die by firing squad. Connolly offered no defense during his sham court martial other than the following statement;
I don't wish to make any defence except against charges of wanton cruelty to prisoners. These trifling allegations that have been made in that direction if they record facts that really happened deal only with the almost inevitable incidents of a hurried uprising and overthrowing of long established authorities, and no where show evidence of a set purpose to wantonly injure unarmed prisoners.
We went out to break the connection between this country and the British Empire and to establish an Irish Republic. We believe that the call we thus issued to the people of Ireland was a holier calling and a holier cause than any call issued to them during this war having any connection with the war. We succeeded in proving that Irishmen are ready to die endeavouring to win for Ireland their national rights which the British Government has been asking then to die to win for Belgium. As long as that remains the case the cause of Irish Freedom is safe. Believing that the British Government has no right in Ireland, never had any right in Ireland, and never can have any right in Ireland. The presence in any one generation of even a respectable minority of Irishmen ready to die to affirm that truth makes that Government for ever an usurpation, and a crime against human progress. I personally thank God that I have lived to see the day when thousands of Irishmen and boys, and hundreds of Irish women & girls, were equally ready to affirm that truth and seal it with their lives if necessary.
In the early morning hours of 12 May 1916, James Connolly was taken by ambulance from Dublin Castle to Kilmainham Jail, carried on a stretcher into the prison yard, strapped into a chair and executed. This act, as well as the execution of the other leaders, was the catalyst in turning the Irish people against British rule.
----------------------------------------------------
Contributed by; Tomás Ó Coısdealha
---
cemetery AND grave location
Name: Arbour Hill Cemetery PHONE NO. +353 1 605 7700
ADDRESS: Arbour Hill, Dublin West, Dublin, Co. Dublin
---
Leaders of the 1916 uprising burial plot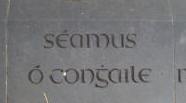 ---
Back to Biographies Posted 05/27/09