Eileen Hayes Ruane (1904 – 1983)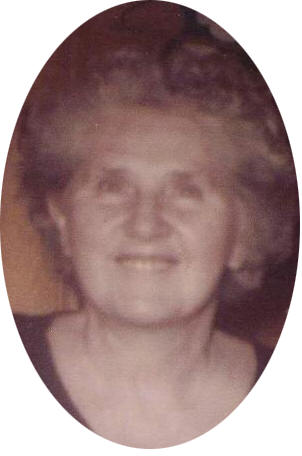 Eileen Hayes Ruane was born February 29, 1904. She was the daughter of John Hayes and Mary Flynn Hayes from Ballygoughlin, Glin, Co. Limerick. Eileen emigrated to America in 1926 and married Patrick Ruane from Ballinaleck, Foxford, Co. Mayo in 1931. They resided in Newark and were the proud parents of Patrick, Eileen, Maureen, Denis, John, William, Katherine, Robert, Michael and Edward.
Eileen worked in Martlin Medical center in Newark (later becoming UMDNJ) as a licensed practical nurse to keep her family together after the untimely death of her husband in July 1948. She continued her work as a nurse for 28 years. She remained active in many Irish organizations, including the Frank McGovern Association, the Independent Irish Association, the Joseph O'Hara Association, the Lenihan Association, the Knights of Columbus Ladies Auxilllary #5184, the Ruane Kidney Dialysis Association, the Ruane Civic Association, Project Children and the Newark St. Patrick's Day Parade Committee.
Prior to coming to America, Eileen expressed a desire to keep the Irish traditions alive that would produce a United Ireland, Gaelic and free. Eileen was active in Cumman na mBan along with her six brothers Geroud, Patrick, Tigue, Sean, Morris and Michael and sister, Mary, who were members of the West Limerick Brigade IRA movement in the early 1900's. She rarely spoke of her exploits for fear of exposing any of her comrades in the IRA to the British tyrants. Active and respected by her peers, she fought all her life for Irish freedom. She would be very proud today along with her children, 30 grandchildren and 44 great grand children that peace is within reach for Ireland.
Below is the text of a letter published in the Irish Independent re; 'RECORD IN NATION'S STRUGGLE'
To the Editor, "Sunday Independent"
Sir --- The record you published of the O'Callaghan family of Minane, Co. Cork makes interesting reading.
You may like to publish the following regarding the members of a West Limerick family.
Six brothers and one sister gave their services during the whole of the troubled period. One of the brothers was Commandant of one of the battalions of the West Limerick Brigade I.R.A. from the inception of the organization. A second was Vice-Commandant of the same Battalion at a subsequent date. Another was deputy police officer for the West Limerick Brigade area. He attended the Sinn Fein courts at which Judge Davitt officiated.
The sister was an active member of Cumann na mBan and carried out all duties assigned to her in and outside the area.
All six brothers were arrested and imprisoned at various times. The first arrested took part in the famous jailbreak under Austin Stack at Belfast. Five of the family became fluent Irish speakers because of their association with the national movement
They were the Hayes of Ballygoughlan, Glin
Signed; Limerick Man
Click HERE to view video tribute to Eileen
---
HEADSTONE