Peter Quinn (1925 – 2008)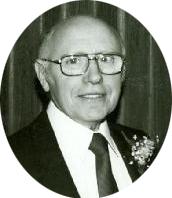 Peter Quinn was born and raised in Lettterkenny, County Donegal, Ireland in 1925. He emigrated to the U.S. in 1947 to find work. Once he arrived, he worked as an elevator operator at the McAlpin Hotel In NYC before moving to Englewood NJ as a bartender.
In 1948, Pete was inducted into the U.S. Army. In 1955, He met and married Mary Feeney from Maugerow, County Sligo. They were blessed with four daughters and a son, and eight beautiful grandchildren.
He opened a tavern in 1955 with another Donegal native, John J. Kelly. Kelly & Quinn's was an upstanding business in Tenafly, NJ for 37 years.
Pete had a long a very distinguished background in many Irish organizations and activities. He spent the better half of his life fighting for the cause of freedom in Ireland. When the troubles started in Northern Ireland, Pete, with a number of friends, started a unit of Irish Northern Aide in 1970. He was involved in every demonstration at the British Embassy during the Hunger Strike in 1981. He boycotted all British goods to the point of refusing to put Scotch whiskey on his bar during Maggie Thatcher's term.
Pete was a founding member and past President of the BCCTA (Bergen County Council of Irish Associations). He was also President and Vice President of the Ceili Club in Englewood, President of the Irish American Social Club and President of AN CUMANN CABHRACH. In addition, he was a member of the A.O.H Gaelic League and the Knights of Columbus.
One of his greatest accomplishments was in 1990 when Pete started the 5th & 91h C.D. of the Irish American Unity Conference. Pete was President for several years and then became Treasurer until his health began to fail in 2007. He attended the 25th Anniversary of Bloody Sunday in Derry and brought back important information regarding the shooting of fourteen innocent young men by British forces.
Pete's lists of accomplishments were extensive and one to be proud including being the Grand Marshall of the Bergen County St. Patrick's Day in 1986. The inscription on one of the many plaques that he had received over the years said: "Presented to Pete Quinn for his untiring efforts, deep devotion and unending generosity on behalf of Ireland's people in need. "Ireland's freedom page will surely say Pete Quinn did not sleep while his land was in danger".
He once told The Bergen Record, "There's nothing I'd rather see than an Ireland under one flag. I will continue fighting for awareness of the problems there until the day I die". And that he did .....
---
HEADSTONE