Bernard Mackle (1920 – 1988)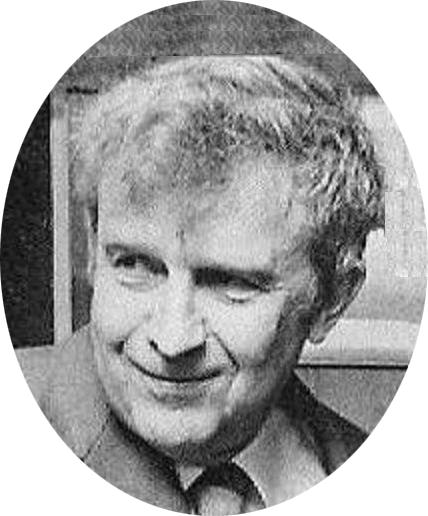 Bernard Mackle was born in Cambridge, Massachusetts on March 1, 1920, the son of Irish immigrants, Bernard Mackle, from Portadown, County Armagh and Mary Fitzgerald Mackle from Ballydesmond, County Cork. As a member of the "Greatest Generation" Bernard joined the New Deal's Civilian Conservation Corps after graduating from high school.
He worked as a wood-chopper and bridge builder throughout New England. On May 23, 1940, he enlisted in the peace time U.S. Army Infantry. Private First Class Bernard Mackle was stationed at Schofield Barracks on the island of Oahu, Pearl Harbor, Hawaii when the base was attacked by the Japanese on the December 7, 1941. It was the day that President Roosevelt called "the day that will live in infamy." After the attack on Pearl Harbor, machine gunner Pfc. Mackle joined the war campaign in the Pacific and was stationed in Australia and New Guinea.
For his combat service he was awarded various awards and citations including two Bronze Stars. He returned states-side in September, 1944 to recover from malaria and other diseases contracted in the jungle. He received an Honorable Discharge on October 8, 1945. The GI Bill gave Bernard and many other grateful veterans the opportunity to pursue a college education. Bernard studied forestry and civil engineering at St. Martin's College in Montana, and Montana State University.
He returned to the East Coast in the 1950s and worked with the first surveying crew that staked out the route of the Garden State Parkway through central and southern New Jersey. During that time he met his future wife, Noreen Lyons from Dunshaughlin, County Meath, Ireland. After their marriage, Noreen and Bernard settled in Ocean County, New Jersey and raised five children, Breege, Bernard Jr., Mary, John and Pearce.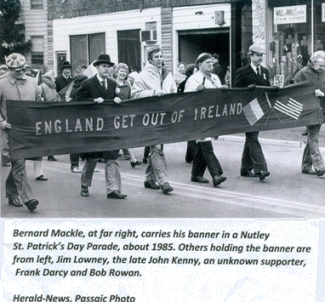 Bernard pursued many interests and was a true Renaissance man – lover of American and Irish politics and culture, an environmental activist, artist and last, but by no means least, a self-taught button accordion player. He served as Political Action Chairman of Ancient Order of Hibernians Division 1, Toms River and was a member of the Central Jersey Chapter of the Irish American Unity Conference.
The Irishman was outraged by the slaughter of 13 unarmed civilians by British troops in Derry in 1972. It moved him to have a banner made with the inscription, "England Get Out of Ireland" and he displayed it near and far. It was green, 12-feet wide and featured cross flags of Ireland and the United States The banner could have been made in a square, but instead Mackle had his message placed in a single wide line. Parade watchers, scanning their eyes from left to right, would have little trouble reading his plea. He and his friends carried the banner for many miles in parades over 16 years in New Jersey, New York, Philadelphia, Washington and even to Dublin's O'Connell Street.
Bernard and Noreen owned and operated a land­-surveying and engineering firm for almost 30 years until Bernard's untimely death on June 22, 1988. Just days before his death, Bernard took part in rally and parade in Manhattan in support of imprisoned Irish rebel Joe Doherty. Benedictine Father Declan Cunniffe gave Bernard's eulogy and noted that he "had the adventures of six lifetimes." On a floral bouquet sent by his good friend Bart Dougherty, there was a succinct summation of his life, "American Soldier, Irish Patriot."
After more than 20 years, memories of his sense of fun, enthusiasm and "joie de vivre" are fondly cherished by his family and friends.
Scribhnaoir: Jim Lowney
---
cemetery AND grave location
Name: St. Joseph's Cemetery PHONE NO. (732) 244-3008
ADDRESS: 56-80 Cedar Grove Road, Toms River , NJ 08753
---
HEADSTONE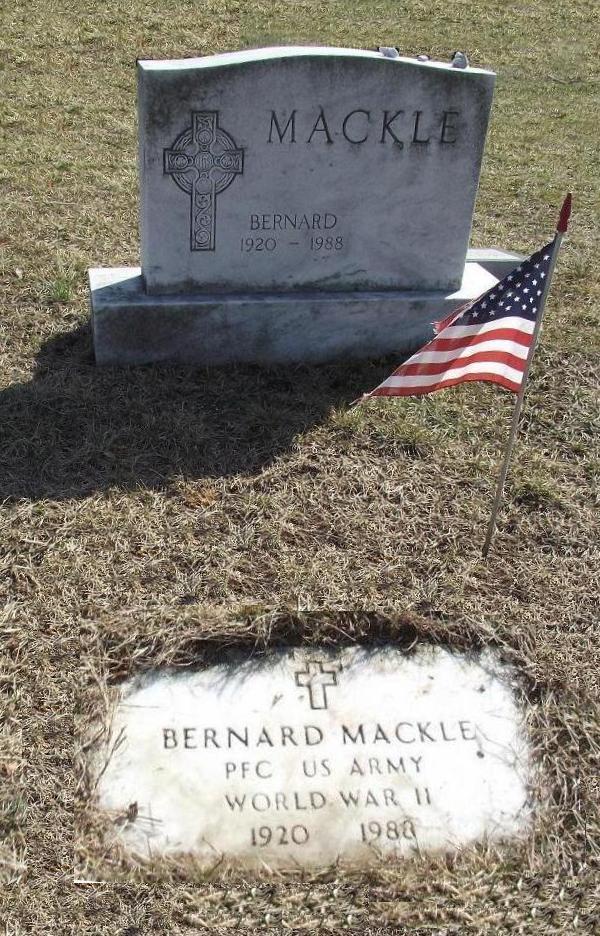 Photo courtesy Jim Lowney