John J. Giblin (1909 Ė 1975)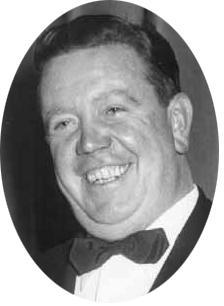 John J. Giblin was born in Tibohine, Frenchpark, Co. Roscommon, Ireland, on February 14, 1909. John was born the ninth of ten children to the late John J. and Eliza Giblin. John attended Irish National schools and emigrated to the United States in January, 1928. John initially took up residence in West Orange, NJ and later moved to Newark, NJ.
In 1929, through the efforts of then Newark Public Safety Commissioner, William J. Brennan, Sr., who also was a business representative for Local 55, International Brotherhood Of Firemen and Oilers, John secured employment at the Prudential Insurance Company, Newark, NJ as an oiler in the power plant department.
IN 1942, John J. Giblin left the Prudential Insurance Company to become a member of Local 68 Operating Engineers and he worked on job sites in the County of Essex, Feigenspan Brewery, Newark, NJ and later became Supervisor Of Heating And Repairs For The Newark Board Of Education.
IN 1948, John J. Giblin was elected Business Manager of Local 68 and served until his death in December 1975. Local 68 was a Local of 300 members and at the time of his death had grown to over 3,000 members statewide.
During his tenure at LOCAL 68, John J. Giblin was instrumental in establishing the Unionís Pension and Welfare Funds. IN 1958, he established the Unionís Education Fund that has been responsible for training several thousand members who pursued the career of stationary engineer.
In May, 1953, John J. Giblin, was elected a member of the Newark Charter Study Commissions that recommended its current mayor-council form of government. In November 1954, HE was elected as an Essex County Freeholder marking its first time in over 40 years that a Democrat had been elected to the Board. In November 1965, he was elected as a New Jersey State Senator representing Essex County and served during 1966 and 1967. In addition, he was Clerk to The Essex County Jury Commission, and a member of The NJ State Board of Mediation.
Active in Irish American activities, John Giblin was a charter member of The Independent Irish Society Inc. in 1935 and served as its President for over twelve years. John Giblin also held various offices in the Newark St. Patrick's Day Parade Committee Inc. including Deputy Grand Marshal in 1937, Adjutant in 1947, General Chairman in 1948 and 1949, and was Grand Marshal IN 1951.
John J. Giblin was supportive of the Irish Republican Movement since his childhood days in County Roscommon. He witnessed the atrocities that were served on the Republic Of Ireland Including being evicted from his family's land by the English landlords when his mother was a widow. His late father, John J. Giblin, Sr., had died when he was ten years old.
John J. Giblin married the former Theresa E. Moran on August 25, 1940, and they were the parents of five children and grandparents of sixteen.
Click HERE to view video tribute to John J. Giblin
---
HEADSTONE