Michael Leo Delahunty (1926 - 1990)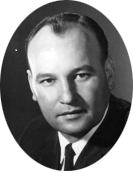 Michael Leo Delahunty was born in 1926 in Co. Kerry Ireland. Michael was the second of seven children born to Bridget and Denis Delahunty
.Michael graduated from the Irish National University in Dublin, Ireland and attended the University of London for graduate studies. In 1953 Michael married the former Mary Ellen Ward in England.
In 1955 Michael and Mary Ellen emigrated to the United States, arriving on Thanksgiving Day. After settling in Montclair, New Jersey, Michael began his long and successful career with Sedgwick James, one of the world's largest international insurance firms. Michael eventually rose to the position of Senior Vice President. In 1976 Michael was elected Montclair Commissioner. Michael also served as Montclair's Director of Public Safety. He was Chairman of the Montclair Democratic Committee from 1987 to 1990. Also in 1990 Michael was elected to the Essex County Board of Chosen Freeholders.
Michael was a long time member of the Newark St. Patrick's Day Parade Committee, serving as General Chairman from 1962 to 1964. In 1966 Michael had the honor of serving as Grand Marshal of the Newark Parade. He also served as Grand Marshal of the Nutley St. Patrick's Day Parade in 1987. Michael was a member of the Knights of Columbus Council No. 1277 in Montclair, the New York based County Kerryman Association and the American Irish Historical Society.
Michael was a proud member of the Ancient Order of Hibernians (AOH) in America, Division Nine, Montclair, NJ. He served as Division Nine President, Essex County AOH President and NJ Stare AOH President. In 1968 Michael attained the position of National President of the Ancient Order of Hibernians in America. During his term as National President more than one million dollars was raised for the victims of sectarian violence in Northern Ireland.
Among the many that left Ireland for the United States in the 1950's few distinguished themselves in the areas of business and public service, as did Michael L. Delahunty All who knew this strong proud Irish gentleman were proud to be associated with him,
Following his death in December-1990 the members of Division Nine unanimously voted to rename our Division the Ancient Order of Hibernians in America Michael L. Delahunty Division Nine.
In eulogizing Mike, Tom Giblin quoted a passage from James Joyce's "The Dead" to describe a sense of longing that everyone who knew Mike would experience:
"A few light taps upon the pane made him turn to the window. It had begun to snow again. He watched sleepily the flakes, silver and dark, falling obliquely against the lamplight. The time had come for him to set out on his journey westward ... snow was general all over Ireland. It was falling on every part of the dark central plain, on the treeless hills, falling softly upon the Bog of Allen 'and, farther westward, softly falling into the dark mutinous Shannon waves. It was falling, too, upon every part of the lonely churchyard on the hill where Michael lay buried. It lay thickly drifted on the crooked crosses and headstones, on the spears of the little gate, on the barren thorns. His soul swooned slowly as he heard the snow falling faintly through the universe and faintly falling, like the descent of their last end, upon all the living and the dead."