Desmond A. Boomer (1931-1993)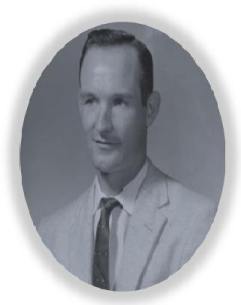 Desmond A. Boomer (Des) from Kearny was one of eight children born and raised on Clondara Street on the Falls Road Belfast on September 27, 1931. He emigrated to Kearny in 1957 where he met his wife Bridget (nee Mulrennan) who also was born in Co. Roscommon, Ireland. They were married in Morristown and shared 32 wonderful years together. He is survived by his wife Bea, children Jerry, Desi, Bridget and Kathleen, Son in laws John Reilly and Billy Brennan and daughter In law Lucielle Boomer and his seven grandchildren Kelcey, Gabrianna, Sean, Julianne, Aidan, Christy and Owen. He was employed as a pipe fitter for the Maxwell Coffee Company in Hoboken for 35 years until it closed. He was a past Grand Marshall of the West Hudson St. Patrick's Day Parade (1980) and a member of the Knights of Columbus #402 in Harrison, the McGovern Association of Newark, and the United Irish Association of West Hudson. He was founding member of the Irish American association in Kearny shared his deep love and respect for his heritage and religion with his family.
Vacation for Des was either East Durham, NY (the Irish section of the Catskills) or home to Ireland. There he would religiously take Bea his wife and four children Thomas Gerard, Desmond, Bridget and Kathleen back to visit with family and friends, which fostered a great love amongst his children of their families and Irish heritage. We have very fond memories of our father taking pride in his heritage. He did pilgrimages at Lough Derg and Knock with one hand and waved his US passport at the border patrol every time we got stopped at the border with the other hand and we always got stopped. He taught his sons Gerry and Desi to box at the Irish American. His daughters Bridget and Kathleen practiced Irish dancing with Peter Smith and all the family learned to love and enjoy listening to Irish music tell the stories of the "Town I Loved So Well" as he waltzed his wife and daughters around the halls in the Catskills and social clubs in the North of Ireland. St Patrick's Day was the only day he would take off work. He would go into New York and he always marched the whole parade twice once with his beloved County Antrim and then again with Irish Northern Aid. He was a fervent supporter of all things Irish.
Des and Bea often sponsored and housed children from Project children a foundation which brought children in the North of Ireland to the United States to escape from the political troubles of the North for a week or two so that they could be carefree children at least for the time they could visit. He supported and encouraged numerous organizations to bring out Irish accordion and pipe and fife bands out to the United States. The bands consisted of men, women, and children many which they put up in their home while the bands played out at both NYC parade as well as local St Patrick's Day Parades. He was instrumental in supporting Irish Northern Aid at all times. He had a deep love of Northern Ireland and made no secret that he supported the IRA as did his father Robert (Bertie) and his Uncle Billy. He spent every Easter Sunday at the 1916 remembrance mass in St Patrick's Cathedral in Newark. After that mass you could always find him and his family at McGovern's to celebrate a spirit that he would never let die. You could find him in New York protesting the extradition of Irish Political prisoners and at numerous functions supporting the hunger strikers and Bobby Sands steadfast resolve. He did not live to see the present day peace in Ireland, however his only dream was to have fairness and justice for those he loved in Ireland. He was truly a proud Irish man always praising God, his family, his County Antrim, and his beloved Ireland.
Desi was a wonderful Husband, Father, Grandfather, Brother, Uncle, and Father in Law, Neighbor and Friend. He lived an uncompromising life steadfast in his religion, family, and his belief that Ireland long a province be a nation once again. His Irish Spirit lives on in all those whose lives he touched.
Click here to download and view video
---
GRAVE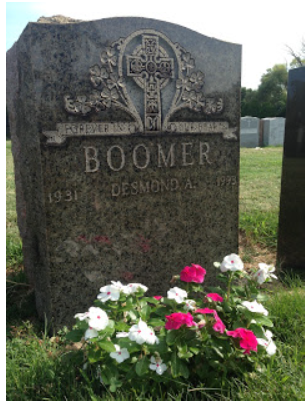 ---
Back to Biographies Posted 4/2/2016