Richard d'Alton Williams (1822 - 1862)
Richard Dalton Williams was born out of wedlock to Mary Williams and Nicholas Dalton on October 8, 1822 in Dublin. Nicholas Dalton was the second son of Peter Count Dalton the owner of the Grenanstown estate located near Nenagh in Co. Tipperary. Mary Williams, a native of Westmeath, was a maid in the Dalton household in Dublin. Numerous account have Peter Count Dalton as the father.
When Richard was six years Peter Count Dalton presented Mary with a proposal wherein she and Richard would live at the Grenanstown estate in exchange for silence regarding the circumstances of Richard's birth. Some accounts have it that, as part of the deal, she married James Williams who managed the Grenanstown estate for the Dalton's. There is no credible evidence as to what really transpired; suffice to say that Mary and Richard were provided for and that the deal also provided for Richard's education.
Living at the Grenanstown estate with its clean air and wide open spaces was a much better setting for Richard than living in the teeming and grimy city of Dublin. The surrounding countryside with its mountains and lakes, which he freely explored, gave verve to his imagination and poetic nature.
In 1832 at the age of ten he was sent to St. Stanislaus, a Jesuit boarding school for boys, in Tullabeg, Co. Offaly. The prefect at the time was Father Meagher an uncle to Thomas Francis Meagher who like Richard would be a leading figure in the Young Ireland movement. In later years when recalling his experiences at St. Stanislaus Richard wrote that he "was sufficiently acquainted with the ferula of the prefect, Father Meagher". At that time and for over the next hundred plus years corporal punishment was the preferred method to discipline students in Ireland.
After finishing his studies at St. Stanislaus he entered St. Patrick's College in Carlow one of the first post Penal Laws Catholic colleges in Ireland. St. Patrick's was a Jesuit institutions where students studied philosophy, theology, mathematics, languages and law. There is no doubt that Richard was a talented student who excelled in many subjects. By the time le left St. Patrick's in 1843, to study medicine in Dublin, he was proficient, not only in English, but also in Latin and Greek. Although he dabbled in poetry at St. Stanislaus it was during his years at St. Patrick's that he felt confident enough to submitt his work for publication. Some of his earlier poems are included in the college's Book of Honor.
After taking up residence in Dublin he commenced his medical studies at St. Vincent's Hospital in Stephens Green under the tutelage of Dr.O'Bryen Bellingham, a renowned surgeon, who some years later testified at Richard's trial as to his exemplary character. St. Vincent's was founded and operated by the Sisters of Charity who mission was to tend to the poor and destitute. The sisters unselfish dedication inspired Richard to compose one of his better known poems Sisters of Charity. Another one of his poignant poems penned while at St. Vincent's was The Dying Girl a lament to a young girl dying from consumption.
Another event that Richard lived through during his years at St. Vincent's was the "Great Hunger".
Richard was still a student at St. Patrick's when The Nation newspaper was first published in 1842. Copies were made available to the students at St. Patrick's. The newspapers founders were Charles Gavan Duffy, Thomas Osborne Davis and John Blake Dillon were all members of Daniel O'Connell's 'Repeal Association'.. They were also amongst those whom O'Connell would later refer to as Young Ireland.
For it's part St. Patrick's encouraged an atmosphere of patriotism to exist and flourish within its walls as evidenced by the writings and actions of some members of its distinguished alumni including James Fintan Lalor, John O'Leary and Maurice Leyne.
A poem by Thomas Davis, 'The Lament for Owen Roe', which appeared in the first issue of The Nation had a profound effect on Richard's psyche in that his poems became more nationalistic in tenor and fervor. Just before leaving St. Patrick's he submitted his first poem 'The Munster War Song to The Nation, which was published in January of 1843 under the pseudonym "Shamrock". That was the first of many poems he would submit over the next six years.
Some weeks before the Young Ireland Rising in July of 1848 The Nation newspaper was suppressed by the British government. It commenced publishing some time later and remained in business until around the turn of the century.
During his years at St. Vincent's Richard was active in O'Connell's Repeal Association whose purpose was to repeal the Act of Union of 1801 between Great Britain and Ireland. From the onset the Repeal Association was denounced by it's younger members for its blatant patronage and unconditional support of the "Whig" party in England. In an attempt to marginalize and control his young distracters O'Connell referred to them as "Young Ireland" implying that they lacked experience and credibility. Notwithstanding his loathing for their lack of conformity, he had few options, but to tolerate their presence as they were the brains of the Association.
The "Great Hunger"(1) of 1845 to 1850 was a pivotal event in Irish history resulting in agony, death, rebellion, retribution and the dispersion of untold millions to far off lands and, for many who fell ill on the journey, watery graves. During these dreadful years Richard spent most of his time and energy tending to the poor who suffered the most. Together with other young compassionate individual he founded a branch of the Society of St. Vincent de Paul to serve the poor and disadvantaged in the slums of Dublin.
The British government's policy of exporting vast quantities of food from Ireland that would have fed the people convinced Richard that England was Ireland blight and that he would not rest until Ireland rid of that scourge.
In June of 1848, Richard and another "Young Irelander" Kevin Izod O'Doherty founded the Irish Tribune, a weekly newspaper. The first issued was published on June 10, 1848. On July 8, shortly after the fifth issue was published, the paper was seized by the British and both Richard and O'Dohorty were arrested and charged with "treason felony" At his trial before a packed jury, a common practice of the British at that time, he was successfully defended by lawyer and fellow poet Samuel Ferguson despite the fact that the jury was sent back three time to reconsider their 'not guilty' verdict.
O' Doherty was not as fortunate as he was found guilty at his third trial and sentenced to 10 years servitude in the penal colony in Tasmania.
After his release from Newgate prison Richard resumed his medical studies in Edinburgh where he received his medical degree in the autumn of 1849. He returned to Dublin and worked at Steevens's Hospital before emigrating to the United States 1851. He obtained a professorship of belles-lettres in the Jesuit College at Springhill, Mobile in Alabama.
After his marriage to Elizabeth Connolly in 1856 he relocated to Thibodaux, Louisiana where he resumed the practice of medicine. Despite the demands of his work he did not ignore his literary calling as he contributed articles to American magazines and journals and, from time-to-time sent articles to The Nation newspaper in Ireland. He was in Thibodaux when the American Civil War started and it was there that he penned his last work "Song of the Irish-American Regiments" a lament for his fellow countrymen who were fighting for both the Confederacy and the Union
On 5th July 1862, just shy of his fortieth birthday , Richard Dalton Williams died of consumption. He is buried in St Joseph's Cemetery.
After the Battle of Georgia Landing in October of 1862 the area was occupied by soldiers of the 8th New Hampshire volunteers who happened upon Richards grave. Irish soldiers attached to regiment recognized who he was and in a gesture of respect and honor had a headstone of Carrara marble, bearing a touching inscription placed over his grave. By clicking here or on the headstone you can read the inscription
---
Notes:
(1) The devastation wrought by the "Great Hunger" and the willingness of the British government to let the Irish population suffer and die, was a rude awakening for those Irish politicians who participated in the administration of British rule in Ireland. Their inability to convince their British overlords to feed the starving people was a clarion call for the "Young Irelanders" to take action. At a contentious Repeal Association meeting in July of 1846 Young Ireland members walked out convinced that the constitutional approach advocated by the leadership of the Association was defunct. Six months later in January of 1847 the "Young Irelanders" launched the Irish Confederation whose avowed purpose was to settle for nothing less than a National Parliament with full legislative and executive powers. They also avowed that under no circumstances would its members ever accept an office or position in the British government.
Despite all attempts by revisionists to rewrite history by casting the "famine" as a unavoidable natural disaster the fog is at last lifting to reveal the "famine" as avoidable and nothing less than attempted genocide by calculated design and neglect.
Contributed by; Tomás Ó Coısdealha
---
Cemetery AND grave location
Name: St. Joseph's Cemetery PHONE NO. (985) 446-0280
ADDRESS: 949 Menard St, Thibodaux, LA 70301
---
GRAVE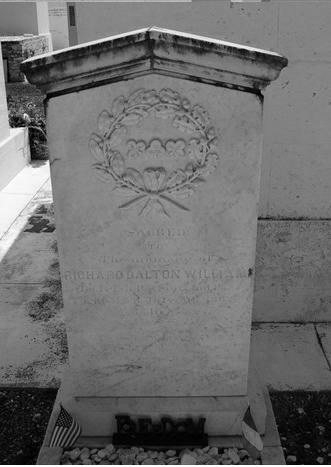 click on the above image to view inscription
---
Back to Biographies Posted 01/28/2013