Thomas Antisell (1817 - 1893)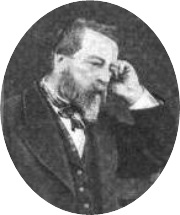 Thomas Antisell, the second of five children, was born to Christopher and Margaret Antisell, (nee) Daly in Dublin, Ireland on January 16, 1817. His father, Christopher, was a barrister who refused the "silk gown," or appointment as Queen's counsel, because of his opposition to British rule in Ireland.
The Antisell linage in Ireland goes back to Bertine Entwyssel who together with Strongbow and other members of the English aristocracy, came to Ireland with King Henry II in 1171, two years after the Anglo-Norman invasion of Ireland.
The Anglo-Norman invasion forever changed the face and character of Ireland. To this day its language, literature and songs bear the marks of centuries of domination and oppression. Ironically, the Anglo-Norman invasion came about as the result of a personal conflict between two of Ireland's warrior kings, Dermot MacMurrough of Leinster and Tiernan O'Rourke of Breifne. After years of conflict and numerous battles, MacMurrough was defeated by O'Rourke and forced into exile. In exile, MacMurrough sought and received help from King Henry 11 to regain his throne.
Due to his family's affluence and protestant ancestry Antisell was educated at the best schools in Europe including Trinity College, Dublin, the Dublin School of Medicine, the Irish Apothecary's Hall, and the Royal College of Surgeons in London where he received his medical degree in 1839. He also studied chemistry in Paris and Berlin before opening a medical practice in Dublin.
In 1844 he became a member of the Royal Dublin Society (RDS) whose objective was to promote and develop agriculture, arts, industry, and science in Ireland. As a member of the RDS he lectured on numerous topics including geology, soil analysis and chemistry throughout Ireland.
As was the case with the other young intellectuals in Dublin during that time Antisell was appalled at the inhumane treatment meted out to his less fortunate countrymen and women by their British overlords. Driven by a sense of duty to redress the deplorable situation he joined the Young Ireland movement; an offshoot of Daniel O'Connell's Repeal Association. The Young Ireland movement had its roots in Trinity College's new Historical Society, founded in 1839. Among its members were such notables as John Blake Dillon, Thomas MacNevin, William Eliot Hudson and Thomas Osborne Davis.
When Antisell joined the Young Ireland movement he was in the company of equals. The men and women of "Young Ireland" were highly intelligent,. visionary and courageous; they, and the patriots of 1798, 1867 and 1916 possessed, within their ranks, the best minds that Ireland ever produced. Unfortunately for Ireland their vision of a sovereign, inclusive and progressive homeland was extinguished by either the hangman's rope, firing squad, prison or banishment. Other countries including the United States were the beneficiaries of the skills and talents possessed by Ireland's exiled patriots.
The term "Young Ireland" was coined by Daniel O'Connell, the leader of the Repeal Association, in an attempt to marginalize and control his young distracters within the association by implying that they lacked experience and credibility.
In 1842 'The Nation' newspaper was founded by members of the Young Ireland movement including Charles Gavan Duffy, Thomas Osborne Davis and John Blake Dillon. The objectives of the paper was to instill a pride in Ireland as a nation, to educate and make them aware of Irish history and culture. Antisell was one of many talented contributor to the newspaper as well as avid reader of the patriotic poems and articles that appeared in its pages.
In June of 1848, after the "United Irishman" a short lived newspaper founded by John Mitchell, was seized by British agents, Kevin Izod O'Doherty and Richard D'Alton Williams founded the "Irish Tribune" a weekly newspaper. Antisell helped with its funding and contributed articles for publication in its pages. The first issued was published on June 10, 1848. On July 8, shortly after the fifth issue was published, the paper was similarly seized and both O'Dohorty and Williams were arrested and charged with "treason felony" Antisell, John Savage and other activists managed to escape to the United States before they could be arrested and similarly charged.
After his arrival in the United States in November of 1848 Antisell took up residence in New York where he opened a medical office and a chemistry laboratory. Despite his busy medical practice he lectured at a number of institutions including Berkshire Medical Institution in Massachusetts and Vermont Medical College. Owing to his stellar reputation and advanced training in chemistry and geology he was offered and accepted the position of geologist on the Park Railroad Survey Expedition of Southern California and Arizona. During that assignment he completed a geological reconnaissance of Southern California and Arizona Territory that was published in the seventh volume of the "United States Reports of Explorations and Surveys," When he returned to Washington D.C. in 1856 he accepted the position of Chief Examiner in the Chemical Department of the Patent Office.
Shortly after the Civil War broke out in 1861 he entered the Union Army as Brigade Surgeon of volunteers with the rank of major. His original assignment was was as a medical director with various Army Corps in the Army of the Potomac. In October of 1862 he was made chief surgeon at Harewood Hospital in Washington, D.C.. He also served as president of a medical examining board and as surgeon in charge of sick and wounded officers in Washington D.C. He was brevetted lieutenant colonel, United States volunteers in March of 1865 and honorably mustered out of service in October of that year
From 1866 to 1871 Antisell was reinstated to his prior position in the United States Department of Agriculture and the Patent Office. In addition to his government duties, before and after the Civil War, he lectured at Georgetown University on a variety of subjects including hygiene, military surgery, physiology, pathology and chemistry. He also served as professor of chemistry to the Maryland Agricultural College. He was a member of the Medical Association of the District of Columbia.
In 1871, at the invitation of the Japanese Imperial government, Antisell joined a United State government commission whose task was to help develop the resources of Japan's northern islands. As a result of his advanced knowledge of chemistry he was transferred to the services of the Imperial government in Tokyo where he was instrumental in developed inks for a new system of paper currency. In recognition of his extraordinary service the Emperor of Japan decorated him with the order of " The Rising Sun of Meiji," making him a nobleman of the Empire, with the right to carry two swords.
After his return from Japan in 1877 he was reappointed to his former position in the Patent Office where he worked for the for the rest of his working life. .
Antisell was married twice first to Eliza Anne Nowlan, of Dublin, who died shortly after they arrived in the United States His second marriage was to Marion Stewart Forsyth of Detroit, Michigan with whom he had twelve children. Six daughters and two sons survived him. superior
He died at his home on June 14, 893.
Contributed by: Tomas Ó Coisdealbha
---
Cemetery AND grave location
Name: Congressional Cemetery PHONE NO. 202-543-0539
ADDRESS: 1801 E Street, Southeast Washington DC 20003
---
GRAVE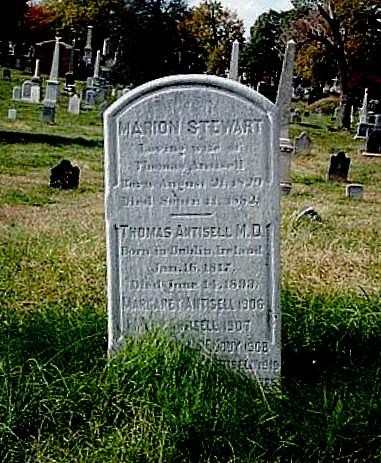 ---
Back to Biographies Posted 03/24/2013