John V Kelly (1926 - 2009)
former New Jersey Assemblyman, Bank Executive, Mayor of Nutley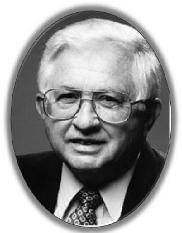 John V Kelly, 83, of Nutley passed away on October 30th, 2009 in Clara Maass Medical Center in Belleville.
Mr Kelly was born on July 11, 1926, to Joseph and Mary Silvestri Kelly on Griffith Street in Jersey City. John got his toughness from his Irish dad who was signed by the NY Yankees as a catcher and his moral compass from his old fashion Italian mom, who taught him the importance of being a good compassionate Christian and to always try to help people. John would follow his mother's advice for his entire life.
He attended St Nicholas Grammar school and St Peter's Prep HS in Jersey City. Upon graduating from the Prep, Kelly served his country during WWII as a Staff Sergeant Demolition expert with the US Army in the Philippines. After returning from the war, John worked nights at the Erie Railroad docks and the Railway Express in Hoboken while attending St Peter's College during the day. John graduated from St Peter's with honors with a Bachelor of Science in Finance and Accounting. He worked for the accounting firm Peat, Marwick, and Mitchell from 1951 to 1962. As a supervisor with Peat, John would come to Nutley Savings and Loan to review and audit the institution. He gave the savings and loan advice and recommendations on how to automate and modernize the entire bank's operations, which the institution did implement. Nutley Savings and Loan President John Dolan took a liking to the bright young accountant and offered him a position with the savings and loan. John started his career with Nutley Savings in 1962 and in 1963 was elevated to comptroller and board member. John became executive vice president and in 1971, upon the death of his mentor John Dolan, became President and Chairman of Nutley Savings.
In keeping with its history as "Nutley's only hometown financial institution" Nutley Savings was a friendly, community minded organization. Under the guidance of John, the savings and loan grew from $60 million to $212 million in assets. It ranked 13th in size among the 200 savings and loan associations in the state at that time and served more than 22,000 customers. Over the years, Nutley Savings made its mark on the financial community by instituting innovative practices and services. It was one of the first financial institutions in the state to install an ATM machine. Under Mr. Kelly's leadership Nutley Savings was known for its special brand of community involvement. As John would say "the community is our most important investment" and he believed that the institution should take an active role in community activities, donating score boards for athletic fields and gymnasiums both in public and parochial schools, sponsorship or support for numerous civic and charitable organizations as well as health care programs held in the bank and support for area hospitals. In addition, John also had the institution sponsor countless performances of local musical groups and individuals, annual youth basketball tournaments, an annual area chess tournament, art exhibits, the Nutley 5-mile Classic, and the Tour Of Nutley bike race. John created the Nutley Savings Community Room to honor former President John F Dolan. This room was utilized free of charge by local and charitable organizations as well as by individuals for family functions.
In the motion picture "It's A Wonderful Life" Jimmy Stewart plays George Bailey, the president of a local savings and loan that granted home mortgages to citizens that larger banks turned down, gave advice and counsel to people, and did everything he could to make his community a better place to live. George was loved and admired by all. John Kelly was the George Bailey of his community.
John began his political career in 1981, being elected to the NJ assembly, serving 18 years spanning the governorships of Tom Kean, Jim Florio and Christie Whitman. He represented parts of Essex, Bergen, and Passaic counties. John took great pride in writing legislation that he believed would benefit the people. He had the privilege of having over 143 bills that he authored and signed into law. He authored the original Helmet Bill requiring that children wear helmets while riding bikes, scooters and skateboards. He authored the bill requiring that mammograms and pap smears be covered by insurance companies. All NJ college dormitories have fire sprinklers in place, thanks to a bill John Kelly authored. John was chairman of the Assembly Insurance and Banking committee. In 1983, he was author of the original Jobs Training Act, which became known as the Governor's Employment and Training Initiative. This law provided training for the state's disadvantaged and displaced workers. He sponsored legislation calling for the establishment of a fund to aid families with children suffering from catastrophic illness as well as legislation aimed at eliminating frivolous lawsuits. On the Appropriations Committee he secured necessary funding for disabled children and autistic research. John also created a law requiring every newborn have their hearing tested before they are released from the hospital. This law is now national. He established a Breast Cancer Awareness Campaign in the Department of Health and Senior Services which required school districts to provide instruction on breast self-examinations. John established the Health Wellness Promotion Act to create minimum preventive measures that must be covered by insurance
In 1938, John's dad died tragically in a snow storm accident, and he remembered how hard this was on himself and his younger sister Theresa. Every Christmas, Jersey City firemen and policemen would bring gifts to John and his sister. He also never forgot the tough financial burden on his family. The country was in the middle of the Great Depression; John had no father, no social security back then, no pension, or benefits. But every Christmas, those firemen and policemen brought a little joy to him and his sister. John authored the bill that guaranteed the pension and health benefits to all families of deceased firemen and police officers. The International Association of Fire Fighters honored him in a special ceremony in The Cathedral Basilica of the Sacred Heart in Newark, January 2001. This is the greatest honor and privilege the Association can award.
John was coordinator of the New Jersey Cares Project which sent more than 7000 "care packages" to US military troops serving in Operations Desert Shield and Desert Storm. The project, which spanned six months and operated on a statewide level, included three shipments to armed forces in the Persian Gulf and Mediterranean Sea. Kelly was recognized by the US Department of Defense for the project and his support of the National Guard Reserves.
John was elected Mayor of Nutley in May 1988, serving as the Director of Public Safety for eight years. The 6179 votes he received in 1988 were the most ever received by a commission candidate in Nutley. It was also the first and only time a first time candidate was elected mayor of the township.
John was a parishioner and trustee of St Mary's Roman Catholic Church in Nutley and was the past Town Chairman of the United Way Drive and the March of Dimes Campaign. In 1985, he was appointed to the New Jersey Crime Prevention Advisory Committee for a three year term. He was member of the Martin Luther King Commission from 1986-1989. He served as chairman of the New Jersey Fire Safety Commission and he was appointed to the Ellis Island Commission to work for the rehabilitation and preservation of Ellis Island and the heritage of our ancestors.
John was not one to mince words, once telling a TV reporter during an interview that "repeat convicted pedophiles should be castrated" and another time telling a legislator who was stalling and debating one of his bills in the assembly chamber: "I may not know much, but I can count and I know I have the votes to pass my bill and you can stick it up your Kazoo!" John had a very colorful way with words.
Mr. Kelly personally met with four sitting presidents in the White House. President Gerald Ford in 1975, President Ronald Reagan in 1984, President George Bush in 1991 and President George W Bush in 2001.
John was very proud of his Irish and Italian ancestry visiting both Italy and Ireland several times. He was very active in the Nutley Irish American, Club, the Unico Club in Nutley and was co-founder of the Nutley Columbus Day Parade in 1982. He donated money to several organizations so that they could set up college scholarship funds.
John Kelly was devoted to helping the people of NJ and he used all of his energy to try to improve the quality of life in neighborhoods and communities. During Thanksgiving and Christmas, John anonymously donated countless turkey dinners, toys, gifts, money and clothing to the less fortunate. He had an uncommon measure of public-spiritedness in behalf of his fellow citizens as Mayor, Assemblyman, Commissioner, Bank Executive and friend.
He was a true gentleman, with a deep devotion to his God, country, family and friends. The foundations of his legacy will continue to build a better community for all. He once said, "It's a great life God has given me." No one will ever forget Mr. Kelly. He was extraordinary, admired, endearing and cherished by all because he was a friend to all.
Mr. Kelly was predeceased by his parents, Joseph A Kelly and Mary Silvestri Kelly, uncles Anthony Silvestri and Thomas Cone. He is survived by his wife of 55 years Elizabeth Meli Kelly, his brother-in-law John Meli, his sister Theresa Nealon, his four children Regina Kelly LaScola and her husband Donald, Joseph and his wife Catherine, Dr John V Kelly Jr and his wife Cynthia, Renee and her husband John T Kelly, eleven grandchildren Christopher, Joseph, Matthew, Luke, John, Laren, Elyse, Dianda, Christa, Alexa, and Kristen.
It has been said that life is a gift from God and the way you live your life is you're thanks to God. John Kelly thanked God every day of his life.
Click here to download and view video
---
GRAVE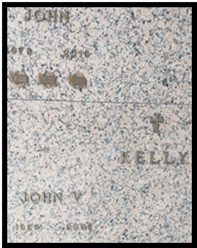 ---
Back to Biographies Posted 4/2/2016