The 'Gazelle'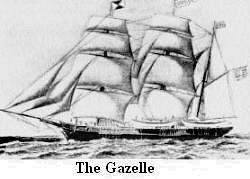 The 'Gazelle' was a whaling ship built in New Bedford Massachusetts in the early 1800's that plied the Pacific Ocean in search of sperm whales. Manned by a captain and crew supportive of the Irish in their quest for freedom from Britain, the Gazelle played a historic role in the life of John Boyle O'Reilly
After two years in English prisons John Boyle O'Reilly was transported with sixty-one other Fenians in the Hougoumont, arriving in Western Australia on 10 January 1868.
In his first weeks at the Convict Establishment in Fremantle he worked with the chaplain, Father Lynch, in the prison library. O'Reilly was transferred to a road party at Bunbury but was soon given clerical duties and entrusted to deliver the weekly report to the local convict depot.
Befriended by the priest, Patrick McCabe, and an Irish settler named James Maguire who was sympathetic to the Fenian cause, O'Reilly, with their assistance, planned his escape. Foiled in his first attempt, he hid on Maguire's farm until he boarded the American whaler Gazelle on February 18, 1869. After narrowly escaping capture at Roderiquez Island he transferred to the American Sapphire at St Helena and joined the Bombay as a deck-hand at Liverpool. He arrived in Philadelphia on November 23, 1869.