Woking Prison
, Surrey, England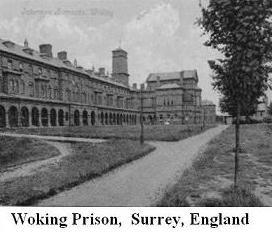 The Woking Invalid Convict Prison - the first of its kind in the country - was begun in 1858 on almost 65 acres of land between Knaphill and St Johns. In 1867 work started on a second prison on the site - for female prisoners. It was while this was being built that the male prison housed two Irish Fenians - Brian Dillon and John Lynch - Lynch actually dying here in 1869.
John Lynch was a widower and publican who lodged in Cork City and became involved with the Cork City Fenians. He was convicted on the word of an informer, John Warner, who stated that Lynch was a colonel in the Fenian organization in Cork. Lynch was convicted of treason and felony by Judge Keogh in December 1865. Overall the evidence used to convict Lynch was rather weak for the sentence of 10 years penal servitude.
Lynch was sent first to Pentonville Prison. Later in December 1865, due to a chest infection, he was moved to the hospital in Woking Prison. Other inmates at Woking included Jeremiah O'Donovan Rossa, Captain Richard O'Sullivan Burke (retired from the US army), Captain Timothy Deasy (of the 9th Massachusetts Infantry Volunteers), Brian Dillon (a law clerk from Cork), and Charles Kickham (author of the popular novel Knocknagow).