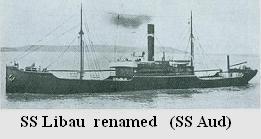 The SS Libau, masquerading as the SS Aud, an existing Norwegian vessel, set sail from the Baltic port of Lübeck on 9 April 1916, under the Command of Karl Spindler. The vessel was bound for the south-west coast of Ireland with a cargo consisting of 20,000 rifles, 1,000,000 rounds of ammunition, 10 machine guns, and explosives to support the 1916 Easter Rising in Ireland.
It arrived off the Kerry coast on April 20 1916. Unable to communicate with volunteers on shore, Captain Spindler was left with no option but to abort the mission and return to Lubeck.
The reason why contact with the shore failed was that three of the six volunteers enroute to Kerry to handle communications were drowned when their car took a wrong turn and ran into the River Laune. The three volunteers who drowned were Con Keating, Donal Sheehan and Charlie Monaghan.
Shortly after starting the return journey, the ship was intercepted by the British Navy and escorted back to Cobh Harbor. Before reaching Cobh the captain scuttled the ship with preset explosives rather than have it fall into enemy hands.
In the meantime, Roger Casement, who had negotiated the arms shipment with Germany, had been put ashore off a German U-Boat on Banna Strand on 21, April in the hope of a rendezvous with the Aud. He was subsequently arrested, tried for treason and executed on August 3 1916.