Lewes Prison, East Sussex, England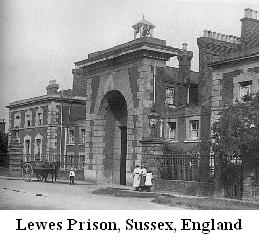 Lewes Prison was built in 1853. Amongst the first prisoners housed there were three hundred Finnish Grenadiers captured while defending Bomarsund Fortress on the Åland Islands during the Crimean War.
Another early prisoner was George Witton, a Lieutenant in the Bushveldt Carbineers in the Boer War in South Africa. He was imprisoned for murder after the shooting of Boer prisoners.
Witton and two other soldiers Morant, and Handcock were scapegoats, made to take the blame for widespread British war crimes against the Boers. The trial and executions of Morant and Handcock were carried out for political reasons, to cover up a controversial and secret "no prisoners" policy promulgated by Lord Kitchener, and to appease the Boer government over the killing of Boer prisoners. Witton, an Australian escaped execution.
In the aftermath of the 1916 Easter Rising in Dublin as many as 120 IRA prisoners were held there. Some of the better known amongst these prisoners were Thomas Ashe, Diarmuid Lynch, Frank Lawless, Harry Boland, Eamon de Valera and Pıaras Béaslaí .